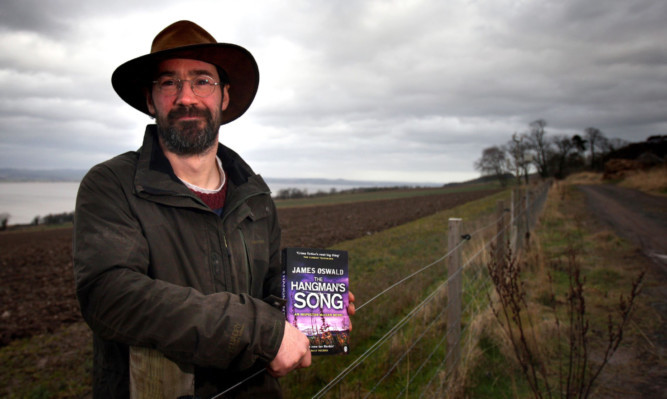 Crime-writing farmer James Oswald's works could soon be on TV, four years after a chance conversation stopped him quitting writing to farm full-time.
Representatives for the Fife author have opened discussions with several broadcast companies.
With Penguin releasing Oswald's fifth Inspector McLean novel, Prayer for the Dead, it is hoped a deal can be struck to bring the Edinburgh detective to the small screen.
Oswald, who runs a livestock farm in Newburgh, had seen all previous writing efforts kicked into touch by publishers and was considering giving up to focus on his cattle and sheep.
However, with an appearance on the Late Late Show with Craig Ferguson under his belt, and talks on TV deals progressing, he is glad fortune had a different plan for him.
He said: "It's an odd feeling because four years ago I was ready to pack it in and ramp up the farm business.
"I had been writing for 20 years and had basically got nowhere. That's when I bumped into an agent and writer, Al Guthrie, who told me about self-publishing."
He continued: "If I'd only sold a dozen a week I would have been round all the agricultural shows with the cows and I would probably have drifted away from writing."
His ebook sales have led to him to be snapped up by Penguin, and his Inspector McLean books being published in 42 countries and 16 languages.
Despite the success, he has managed to increase his herd of Highland cows and Romney sheep, and continues to write in a static caravan under a Dutch barn on his farm.
Oswald has also penned a series of fantasy books, The Ballad of Sir Benfro, under the name JD Oswald.
He said: "Working on series fiction, it's very easy for the writing to get stale and repetitive, so I am very lucky, really.
"If I reach a tricky point in a plot with Tony McLean, I can go and write about dragons, warriors and all manners of weird stuff for a fortnight."
James will be signing books in at Waterstones (1-2pm) and WH Smith in Perth at 1pm and 3pm, respectively, on Saturday, at WH Smith and Waterstones in Dundee at 4.30pm and 6.30pm, on February 19, at WH Smith and Waterstones in St Andrews at 4.30 and 6.30pm, respectively, on February 20, at WH Smith and Waterstones in Dunfermline at 11.30am and 2pm and at WH Smith and Waterstones in Kirkcaldy at 4.30 and 7pm, respectively, on February 21.