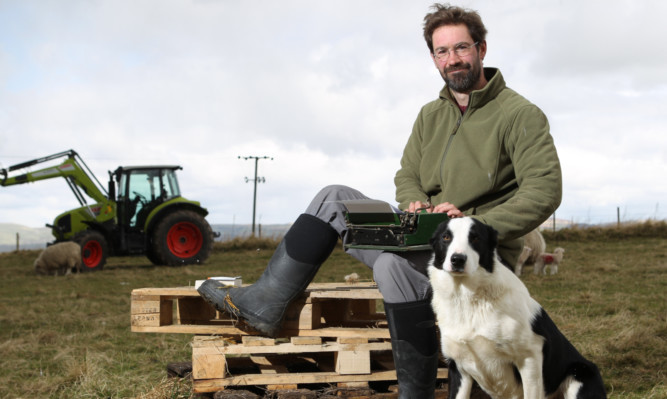 In an interview ahead of launching his latest detective crime novel, north Fife farmer turned author James Oswald tells MICHAEL ALEXANDER how life has become a 'bit mad'.
Fiction is just a mirror of reality for the most part, goes the old saying.
Never judge a book by its cover, goes another.
But don't presume that just because James Oswald's crime books contain lurid details about a certain type of crime that he must have first-hand experience of it.
The north Fife farmer turned author doesn't sound sheepish at all when he reveals that his latest Inspector McLean crime novel sees the detective investigating swinger's parties and brothels in Edinburgh's Stockbridge area.
But he laughs when I ask if he has a particular interest in the sleazier side of the capital's nightlife.
"As soon as people know I'm writing about sex they ask 'how does he know so much'?," he smiles, as he prepares to launch his latest novel in Dundee. "But I write about killing people and no one asks me where the bodies are buried on the farm!"
It's almost three years since James secured a major publishing deal after years of his books being rejected.
James, 48, of the 350-acre Fliskmillan Farm, near Newburgh, conjures up plot lines for his Inspector McLean mysteries while tending Highland cattle and Romney sheep on Norman's Law overlooking the River Tay.
After a day on the hill, he retires at night to write the Edinburgh-set supernatural crime novels that have defied expectations.
Now the sixth Inspector McLean novel, 'The Damage Done', sees the detective again on the beat.
And this time it sees the downtrodden character peeking behind the net curtains of some of Edinburgh's most prestigious properties.
It's been a remarkable journey for James who, four years ago, considered quitting fiction to focus solely on the farm after his books fell flat with mainstream publishing houses.
Experts were forced to reconsider after the same books, self-published by James on Amazon, took the Kindle e-book market by storm. Almost 350,000 readers downloaded his first two books Natural Causes and the Book of Souls.
Now, since signing a physical book deal with Penguin in May 2013, the latest figures reveal that overall book sales for his five Inspector McLean crime mystery books to date have surpassed the half million mark, selling worldwide.
Three of his five McLean books have been in the Sunday Times Top Ten Best Seller lists.
He has also been delighted to receive an invite to appear at this summer's Edinburgh International Book Festival.
"I'm still not quite sure what I'll be doing there, " he laughs, "But I've been to a few crime festivals in the past and they are always good fun. In fact in November, I had to come home early from a festival in Shetland because 20-odd cattle had escaped into my neighbour's wood. That was the weather of course. It was Storm Abigail that time."
Of course it's not the only "damage done" to his livelihood by the weather recently.
As reported by The Courier, Storm Gertrude tore apart his Dutch barn four weeks ago, beneath which he pens his best-selling crime books from a static caravan.
Gales of 105mph ripped the barn roof off its supports in the night and the steel structure buckled onto the caravan, with James and partner Barbara being woken by the noise.
Had it collapsed at the other end, the caravan where they were sleeping would have been crushed.
Relieved at the escape, the pair have decamped into a section of a new home they are having built on the farm.
"It was quite terrifying when the barn came down, " James adds.
"It was about 6.30am and I was still in my bed. The gusts were like explosions. We've had some bad storms in the past, but this was particularly frightening. There was this massive bang and then it went very dark. The steel roof came down on the caravan. We were very lucky. If the roof had collapsed at the other side, we could have died."
James describes the last three years as "a bit mad". His novels do require research so he brushes up on police practices and the state of the Scottish judiciary. But he also has the farm to think about. He added: "I don't think I've sat down in that time!"
In addition to the Inspector McLean series, he has been writing a fantasy series for Penguin The Ballad of Sir Benfro inspired by the Welsh language and history he experienced whilst living there a few years ago.
Between McLean and Benfro, this means he's actually released 10 physical books in three years. That's no mean feat as a working farmer.
But he's certainly enjoying the ride and revealed that he is already starting work on the seventh McLean novel, with an eighth contracted thereafter.
He adds: "It's been an amazing journey but I am lucky to have the farm as well. I can still walk down the street and not be recognised, which is nice. It's hard to get big headed when you're pulling out lambs. It certainly keeps you grounded."
* The launch of The Damage Done takes place at Waterstones, Dundee with a Q and A on Thursday March 3 (6.30pm), followed by a talk at Topping Book Seller in St Andrews on Friday March 4 at 8pm.
He will also be appearing at Kirkcaldy Waterstones on March 10 (7pm) and will appear alongside fellow Fife crime writer Neil Broadfoot at the Bruery in Dunfermline on March 18.