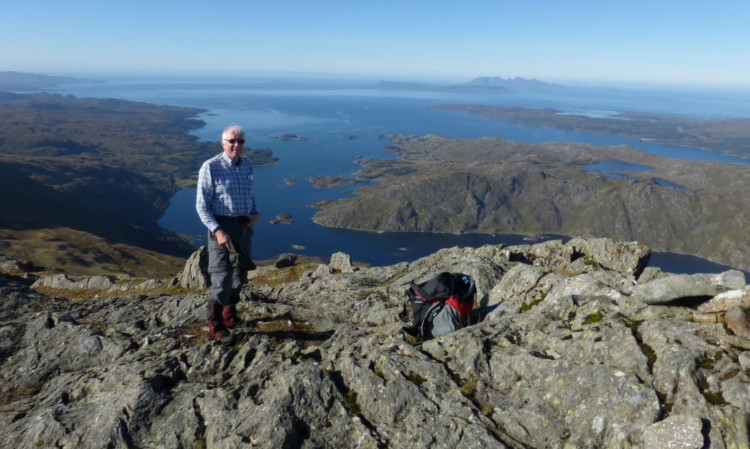 On Saturday morning, hundreds of fearless "yompers" will be running, walking, or in some cases, crawling across the Perthshire and Angus glens. Gayle Ritchie speaks to the youngest and oldest people taking part in the 2014 Cateran Yomp.
At 7am on Saturday, around 550 people will set off on what could be one of the biggest challenges of their lives. The Cateran Yomp sees teams of two to six people starting in Blairgowrie and hiking a stunning circular route which takes them through Kirkmichael, the Spittal of Glenshee and Kirkton of Glenisla.
Whether they're tackling the Cateran Yomp's epic 54-mile gold route, the 36.5-mile silver alternative, or the 22-mile bronze option, it's going to be tough, both physically and mentally. It's a unique opportunity to experience some of Courier Country's most breathtaking scenery while raising vital funds to support ABF The Soldiers' Charity and The Alliance Trust Staff Foundation.
I signed up to do the bronze route with a group of Courier colleagues and while most of my team mates have been on at least two major training hikes, I'm seriously worried I've not put in the hours! Walking the dog round the block and the occasional jog and cross training session may not stand me in good enough stead!
https://youtube.com/watch?v=ScuCEDMo_zk%3Frel%3D0
One man who is most definitely Yomp-ready is Neil Macnair from Bearsden in Glasgow. At 75, Neil is the oldest Yomp participant, but he's one of the fittest and best prepared.
A seasoned hillwalker, Neil has bagged all 282 of Scotland's Munros and is ticking off the list of Corbetts. He spent last week in Skye scaling various peaks, including The Inaccessible Pinnacle the second highest summit in the Skye Cuillin at 3,235ft and rising from the top of Sgurr Dearg. It's notorious as the most difficult of the Munros, requiring a rock-climb and an abseil to complete the ascent.
"I don't know if my knees will be up to it following such a strenuous and hectic week!" jokes Neil, a retired gas insulation company director.
"A friend had walked the Cateran Trail and mentioned the Yomp and a neighbour has a son in the Royal Marine reservists, Donald Maclean, who suffered serious foot injuries after an IED partially detonated when he stood on it.
"Another friend was talking about this and once she'd decided she'd do it, we quite quickly got a team of three together."
Neil's team mates, Elspeth Neville from Bearsden and Hamish Thomson from Milngavie, are also in their seventies. They plan on completing the bronze route but if they're feeling fit, they might carry on and do silver.
"We won't be rushing off too fast we'll be taking it easy," he says. "We'll drink plenty of water and won't stop for too long. Weather permitting, it should be a great day out."
Sixteen-year-old Robert Henderson is the youngest Yomper and he's gearing up to complete the silver route.
A member of the Bedfordshire Army Cadet Force, he's used to tough challenges and is a pro when it comes to walking and navigating so while the minimum age for silver competitors is 18, they've made an exception for some cadet teams with a mix of older and younger members. The longest expedition he's completed is 20 miles, so the 36.5-mile route he's tackling will be a test.
"I've trained and done long-distance expeditions but the terrain round where I live is fairly flat, not like what I'm expecting at the Yomp." he says.
"There are six cadets in my team but I'm the youngest. It's been quite a busy time as I've just finished Year 11 and took my final exam last week. I've never been to Perthshire before so I'm really excited about the event."
It's an epic challenge for an epic cause and, in the words of supporter Bear Grylls, the Yomp will take "guts, endurance and heart" especially if you're doing the 54-mile route through Saturday night and into Sunday morning.
With food and water stops at regular intervals, competitors are never further than a few miles from their next slice of chocolate cake and a team of elite masseurs are on hand to ease away any aches and pains.
Dubbed "Scotland's Big Walk, with a twist" by organisers WildFox events, participants can expect to stumble on surprises along the way, including clay pigeon shooting, archery and a fire-breathing dragon hidden in the woods.
Over the last three years, the Yomp has raised over £1 million including £350,000 last year alone through walkers gaining sponsorship for their efforts and The Courier is once again pleased to be media partner for the event. ABF The Soldiers' Charity the Army's national charity since 1944 supports thousands of soldiers, former soldiers and their families each year while the Prince's Trust helps disadvantaged young people to get their lives on track.
Funding goes a long way; a gift of £25 could go towards exercise equipment to help an injured soldier recover, £50 could help an elderly veteran heat his home, £100 could fund course fees so a soldier could re-train for a new career and £250 could fund a home adaptation, helping a severely wounded soldier to live life independently.
See more at www.thecourier.co.uk/news/local/perth-kinross/cateran-yomp and look out for Yomp coverage in Monday's Courier and full results on Tuesday.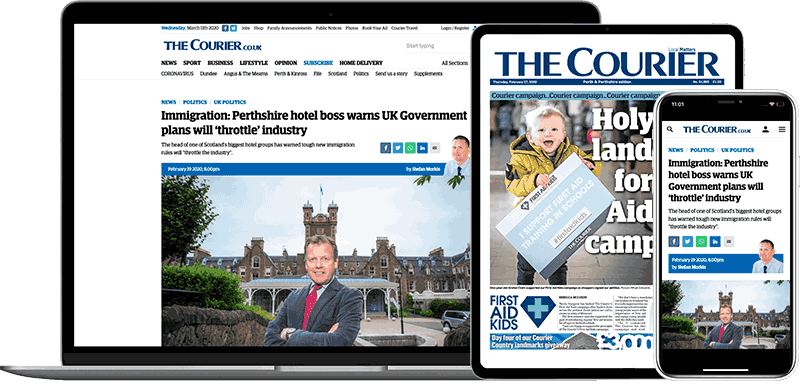 Help support quality local journalism … become a digital subscriber to The Courier
For as little as £5.99 a month you can access all of our content, including Premium articles.
Subscribe