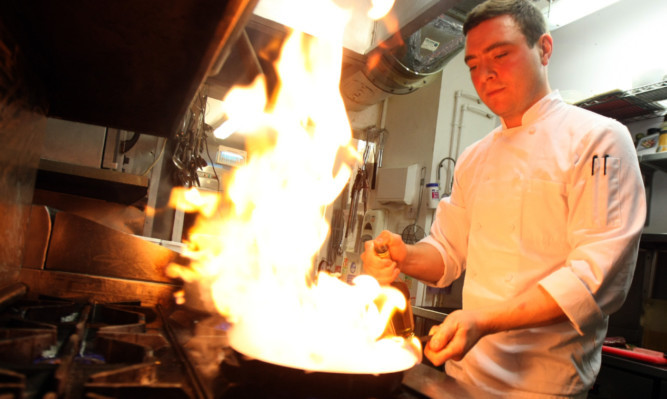 Michael Alexander speaks to Perth chef Marek Michalak who has recently been accredited the title of a Master Chef of Great Britain, the first Pole to be appointed the title.
When Perth chef Marek Michalak moved from Poland to Scotland in 2004, taking advantage of his home country joining the European Union, he couldn't speak a word of English.
Fast forward 12 years, and the now executive chef and co-owner of the Fair City's Caf Tabou has joined an elite group with his appointment as a Master Chef of Great Britain.
He is one of only around 250 chefs throughout the UK to hold the honour and the first Polish chef to be appointed.
And the hard working 33-year-old is so grateful for the opportunities that Scotland has afforded him.
"I came to Scotland from the north of Poland, the Masurian Lake District, with my brother Michael, and my father Kazek, a master butcher, now retired" he explains.
"My brother was a history teacher. He now works as a carer in Perth. I was a qualified chef in Poland with two or three years' experience as a chef and head chef when I moved to Scotland."
Attracted by the economic opportunities in Scotland, and having always found the country "beautiful", Marek initially stayed with a family friend and spent a year at Perth College learning the English language and also underwent further training as a chef. Now having joined the team in 2004, he is co-owning and running Perth's award-winning Caf Tabou, a traditional French restaurant in St John's Place, which prides itself on a homely atmosphere and specialises in quality old French cuisine.
He adds: "I like to ensure the standards of the food served and service at Caf Tabou remain perfect. I took over in 2007, and to me, cooking is not just a way of earning a living, it is my greatest passion. Taste and good manners prevail. Professional service entails satisfying every wish of the customer and our refined wine list comprises a variety of carefully selected wines matching our menu. The wines cater for all tastes not only those of connoisseurs."
The Master Chefs of Great Britain was formed with the aims of not only providing chefs with the opportunity to exchange ideas but also to further the profession through the training and guidance of young chefs. It has been in existence for around 35 years and members include Nick Nairn, Bruce Sangster and Tony Singh.
Marek explains that what makes the award special is that the nominations come from existing Master Chefs. In his case, it was from friends Paul Barnes, executive chef at the Fonab Castle Hotel in Pitlochry and David Hunt of Inspire Catering.
"That for me makes it most special, adds Marek. "You can't buy this title. Some people think it's to do with the TV series but it's nothing to do with that. It's been a passion of mine to obtain such a prestigious title which is approved by leading fellow chefs. And it's down to hard work.
"It's a wonderful feeling to be recognised personally within your industry sector. And to be the first Polish chef to attain this makes it extra special. It means a lot to me!"
His accreditation was announced at Caf Tabou's recent Scotch Beef Dinner where diners included Jamie Scott, winner of BBC's Masterchef: the Professionals 2014.
Marek finds Scotland an "amazing" place to work. He has been bowled over by the range of fresh cuisine and quality eateries on offer in Perth, Fife,Dundee and beyond.
Married to Magdalena, who co-runs Tabou, the couple have a three-year-old son Filip who he is proud to say was born in Dundee.
And the year is about to get even better with the couple looking forward to becoming parents again with a second baby due on May 13.
"I'm so happy to be in Scotland, " he adds, "But having just returned from Poland where it was minus 20C, I won't talk about the recent shocking weather!" he laughs.
www.cafetabou.co.uk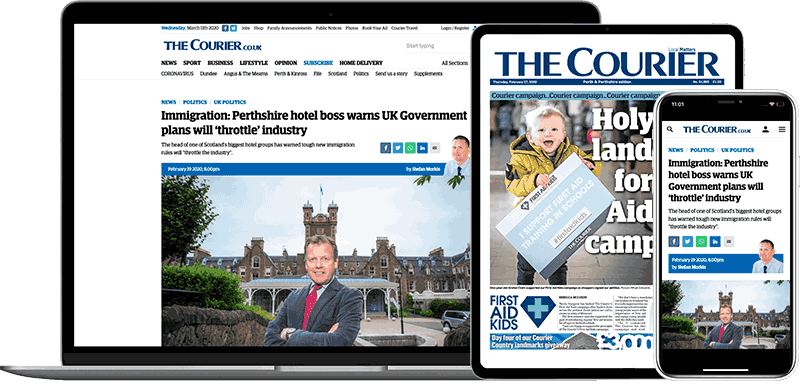 Help support quality local journalism … become a digital subscriber to The Courier
For as little as £5.99 a month you can access all of our content, including Premium articles.
Subscribe