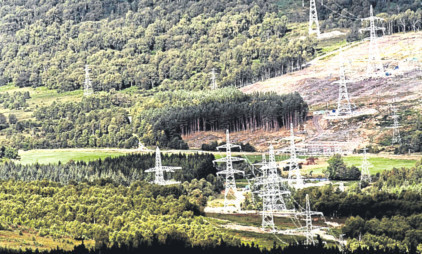 The next generation of giant wind turbines is heading for Perth and Kinross, according to campaigners.
They say the region will become the next green energy battleground as the Beauly to Denny powerline opens up huge swathes of wild land to industrialisation.
Though many communities have long felt victimised, Scotland Against Spin has warned their troubles may only be beginning.
Chairman Graham Lang believes an unprecedented feeding frenzy is ahead one that will test the resolve of residents and councillors who may already be fatigued by the fight.
He told The Courier: "Perth and Kinross is feeling the heat from wind developers as never before.
"Compared to areas such as Aberdeenshire, Borders, Highlands, Galloway and South Ayrshire, Perthshire has significantly fewer turbines and windfarms.
"This is because local communities have fought excellent and well-resourced campaigns over the years and Perth and Kinross Council has been unwavering in protecting communities and landscapes from damaging turbine development."
"As wind development elsewhere reaches saturation point, however, insatiable speculators are flocking to Perthshire with renewed determination."
The country's renewable energy body believes the industry is being unfairly maligned.
Scottish Renewables said those against onshore wind were in the minority and stressed it was tackling climate change, supporting communities and working to ensure wild land and residential areas were protected.
Despite such observations, residents in Highland Perthshire, on the east Perthshire-Angus border and at the foot of the Ochil Hills, have mobilised against the spread of windfarms in recent months.
A number of significant developments already rise from the landscape but a huge number of additional projects are in the planning process and more prospective plans join them every month.
A total of 10 schemes are being opposed by determined but increasingly weary residents in and around Dunkeld and Birnam alone.
Mr Lang said the UK's generous subsidies and "the comparative ease with which Scottish ministers consent windfarms" had long made Scotland a magnet for international wind speculators.
He believes Highland Perthshire is now being targeted because the Beauly-Denny line provides the connection and grid capacity lacking in many other areas.
In addition, as the pylons, wires and tracks have already "compromised" the landscape, he said windfarm developers are betting on the line as a precedent for consenting further industrial infrastructure.
"Another attraction for developers is that locals will become exhausted from opposing so many proposals," he said.
"Fighting a windfarm application is all-consuming, and lay people cannot put up indefinitely with the stress of having their homes and communities threatened."
Mid-Scotland and Fife MSP Murdo Fraser believes the campaign groups' concerns have merit and he has called upon local leaders to back Perth and Kinross communities and help them in the fight against "unsuitable" development.
Scottish Renewables senior policy manager Joss Blamire has, unsurprisingly, an alternative view of the industry.
He said: "Scotland's onshore windfarms are our biggest source of renewable energy and are helping to tackle climate change by displacing over 10.9 million tonnes of C0 every year.
"Despite the vocal minority who choose to ignore any of the benefits the technology brings, UK Government figures show 67% of people support onshore wind.
"Scotland's planning system already rules out any onshore wind development in Scotland's National Parks and National Scenic Areas and also ensures that developments have no unacceptable impacts on any of Scotland's wild land or on residential areas.
"When developments are given the go-ahead, communities directly benefit from around £11,000 per typical onshore wind turbine every year to spend on what's needed most funding energy efficiency measures in homes, investment in local museums, cycle paths and tracks and even community transport schemes."