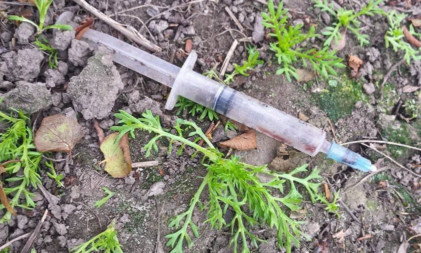 Horrified parents have demanded action after a young child found a discarded used hypodermic needle beside a Perth primary school.
The shocking discovery was made by the youngster near North Muirton Primary School, sparking outrage in the community.
It comes amid claims drug abuse is a "growing problem" in North Muirton.
Dean Lamond, of Perth, took to Facebook to describe how the needle was found by his daughter.
He said: "This was found 10 minutes ago outside North Muirton Primary School.
"There has been a few found in North Muirton recently absolutely shocking and disgusting.
"Another child picked it up and showed the wee one.
"She came running home, told me and showed me where it was.
"Might be a good idea to tell your children about this sort of stuff.
"If folk are going to use them they could at least dispose of them properly."
His comments provoked a storm on the social media site.
Rosie Labrum posted: "I'm glad (the girl) came home and told us… showed Dean where it was so we were able to go into the school and report it."
Councillor Heather Stewart and Mid-Scotland and Fife MSP Liz Smith called for action.
Ms Smith described the find as "totally unacceptable" and said parents are "rightly shocked and disgusted".
"Many parents have reported that they have been forced to tell their young children about the dangers of touching needles," she said.
Miss Stewart added: "I have raised this with the council and asked for a thorough search of the area around the school to make sure no other needles have been dumped.
"Local residents have been expressing concern for some time that drug abuse is a growing problem."
A spokesman for Perth and Kinross Council said: "On Tuesday, a needle was found near the gate to the primary school's grounds.
"It was reported to the school's head teacher who safely removed the needle and disposed of it securely.
"Teachers have spoken to all pupils about never touching needles."
A police spokesman said: "Anyone who has information regarding drug misuse or dealing is asked to phone 101."