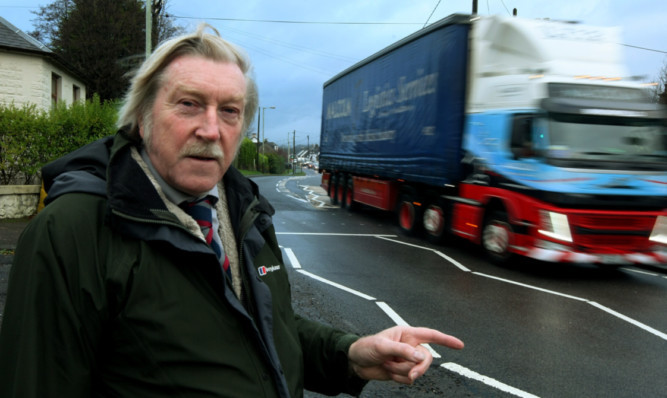 Roads bosses are under fresh pressure to commit money to the upgrade of a "forgotten" Kinross-shire commuter route which is being forced to deal with an influx of Forth Road Bridge traffic.
Independent councillor Mike Barnacle has long campaigned for safety measures on the notorious A977, which runs from Kincardine to the M90.
He said he had "reached a brick wall" with Perth and Kinross Council and Transport Scotland, which he says have repeatedly refused to pay out for much-needed improvements, including the creation of three roundabouts.
Mr Barnacle called for measures to be brought forward as a matter of priority after queues of traffic were diverted along the road from the closed Forth Road Bridge.
"This is Scotland's forgotten road," he said. "It only seems to get mentioned when it is being used as a diversion.
"It was suggested when the Clackmannanshire Bridge was completed in 2008 that mitigation measures should be made to the A977.
"But, Perth and Kinross Council have significantly failed to put forward any funding for this."
He said that, given the sudden closure of the Forth Road Bridge, a review was needed urgently.
"It's very important that the Scottish Government works together with the council on developing a new strategy. The way things are going, this road is only going to get busier. At its height, it can be nose-to-tail traffic. There was a recent study which showed it gets more HGVs than any other A-road, but that doesn't seem to make any difference to the leaders of the administration."
In 2009, the Scottish Government agreed to spend about £250,000 to improve safety along the route.
Mr Barnacle said this was a "paltry" gesture and in 2013 called for £500,000 to be set aside from the council's capital budget. The move was rejected, meaning there is now no provision for A977 measures before 2020.
A Transport Scotland spokesman said: "Our current focus is to work with our transport partners to mitigate the impact of the Forth Road Bridge closure which will be closed to traffic until early in the new year.
"This is a matter of national significance and we appreciate the assistance that our local authority partners can give us during this difficult period."
A spokeswoman for Perth and Kinross Council added: "Our current priority is to make sure that the A977, and other roads in our area which will support diversions from the Forth Road Bridge over the next few weeks, remain clear of all non-emergency road works.
"Any proposals for improvement will require to be agreed as part of the council's budget process."
Parking restrictions have been put in place on the A977, A91 and A823.