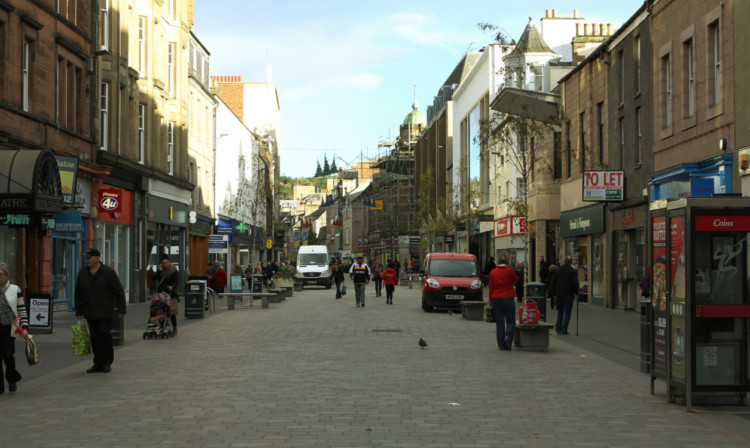 Efforts to revive the flagging fortunes of Perth's High Street retailers are failing.
Significant work has been done in recent months to rejuvenate the sector, with a number of long-empty units coming back in to use. A new study, however, has painted a grim picture of the current state of trade in the city.
Shops have reported plummeting sales, fewer customers and footfall in the city centre is down almost 10% in the last year, suggesting there has been no recovery.
According to figures from the City Centre Management team, which reports to Perth and Kinross Council, the number of people making their way to Perth dropped from almost 315,000 in March 2013, to 285,000 this year.
There are significant concerns that initiatives launched by the council, particularly the Free After 2pm festive parking, have had no positive impact.
Attempts to drive traffic to the city centre via major events have also been labelled "a shambles", while signage directing shoppers to local business "disappeared overnight".
Retailers also feel they are being pushed to open on Sundays; a move which many believe is "pointless".
A number of Perth businesses said they have "very little" confidence in the local authority and feel there is no support available.
Laura Wilson, who owns Whispers of the Past on George Street, said she was losing out because of high parking costs. Motorists are forced to shell out £2 for just one hour, making it one of the most expensive streets in the city.
Ms Wilson revealed that shoppers aren't willing to pay and instead park elsewhere.
She said: "We have people who used to come here every week and now they hardly come into town. The reason they don't shop in Perth any more is because they either can't find a parking space, or aren't willing to pay a premium.
"This is a huge issue for the city and something needs to be done about it."
Another issue facing retailers on George Street is a lack of visible signage advising shoppers of what is available within walking distance of the High Street.
"If you come out of Marks and Spencer and look to the left, you would think there was nothing down this way," Ms Wilson continued.
"There were signs put up for Independent's Week, but these were taken down just after Christmas. We were supposed to be getting new ones but so far, nothing has appeared."
Meanwhile, out of town retail developments have also been having a negative effect on the city centre.
Despite assurances from the council that it would not be detrimental to local businesses, the new Marks and Spencer store at the Inveralmond Industrial Estate has been blamed for the drop in footfall.
Retailers believe that customers from rural areas are now buying their groceries from there and heading straight home again, completely bypassing Perth.
In a statement from Perth and Kinross Council, a spokesperson claimed that "the majority" of businesses at the Perth Connect meeting agreed that markets and events were helping to attract more people into the city centre.
They cited the Christmas lights switch on as an example, although only the High Street and St John Street saw any real benefit, reporting an increase in footfall of 56% and 206% respectively.
The spokesperson said: "Footfall can fluctuate from month to month and is just one indicator of activity in the city centre.
"There has been no increase in car parking charges for three years, and our charges are not expensive in comparison with those in other local retail centres.
"We continue to take steps to improve parking in the area with initiatives such as the Free After 2 parking scheme over the festive period, and we are now looking to redevelop South Inch Car Park to become a pay on exit facility in line with public feedback.
"We are committed to working in partnership with local businesses and retailers to share information and advice, which will allow all of us to play our part in continuing to make Perth City Centre an enjoyable place to shop and spend leisure time."