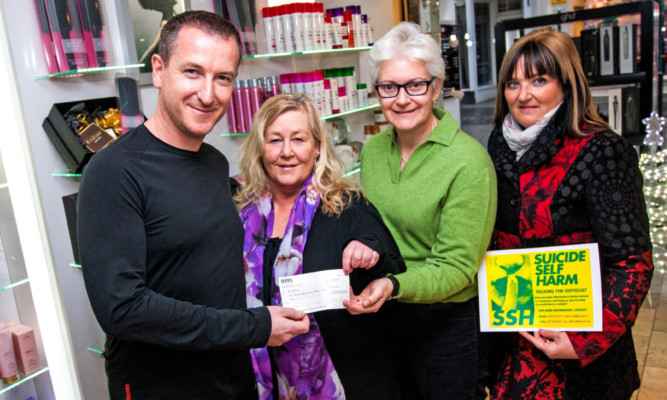 A Perth mother who lost her daughter to self-harm has urged mental health sufferers to seek help to prevent a rise in deaths during the festive period.
Tracy Swan, whose daughter Jodie was just 22 when she died two years ago, has warned that Christmas can be a particularly vulnerable time of year for those suffering mental health issues.
And she is imploring anyone suffering suicidal thoughts to reach out and seek help during the holiday period.
Tracy said: "In the run-up to Christmas the number of suicides and people self-harming can heighten.
"We have had four suicides in Perth in a month that I know of. It's so scary.
"People who have mental health issues and self-harm need a structured day.
"That doesn't happen due to holidays and so they find it difficult to cope. It exacerbates the problem.
"The person who is self-harming or has suicidal thoughts, they are not thinking about the consequences or impact that they have on any other member of their family.
"I know that with my daughter as she was a prolific self-harmer for 12 years.
"All self-harmers are doing is getting rid of the anxiety and the feeling that leads them to self-harming.
"It's a good feeling for them when they self-harm. When they're anxious that's their way of coping unfortunately."
After her daughter's death, Tracy created her own support group to help others cope with their loved ones' mental health problems.
She continued: "At this time of the year in Perth I know that there are quite a lot of services tapping into mental health now.
"For young people aged 16-25 there are things like peer Scotland, which is a web project, and youth therapists.
"There is also Mindspace in Perth.
"All of these places have got really long waiting lists, but if you're in a crisis situation they will deal with you."
Executive director for Samaritans Scotland James Jopling said: "Problems don't go away just because it's Christmas, so if you're finding it hard to look forward to the festive season, we're here for you.
"If it's too difficult to open up to friends or family, or you feel you have no one who will listen, talk to us.
"You can talk to us, by phone, email or face to face in our branch.
"However difficult your thoughts and feelings are, knowing that we care and that we will listen can make all the difference."
Tracy's suicide and self-harm group can be found on Facebook.
To attend meetings in Perth city centre on Tuesdays contact Tracy on 07715460590 or email tracy.selfharm@hotmail.com.