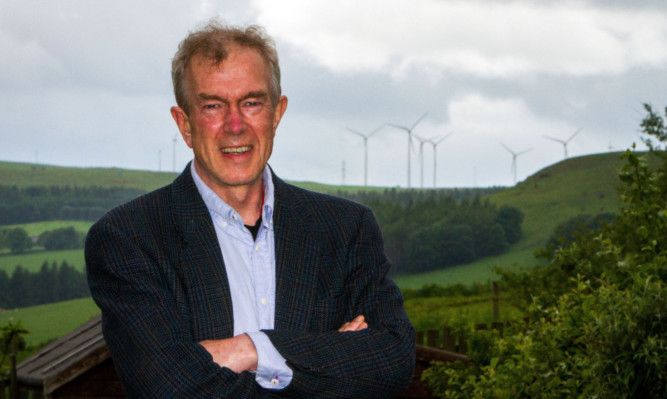 Energy bills could rocket as Scotland's economy has £3 billion worth of investment ripped away because of the UK Government's decision to scrap windfarm subsidies, it has been claimed.
More than 100 future jobs and £10 million of investment were also put under threat at a development in rural Perthshire because of the controversial changes, according to industry figures.
First Minister Nicola Sturgeon has written to David Cameron calling on the Prime Minister to reverse the decision.
Binn Eco Park, a former landfill site at Glenfarg, is now home to waste recovery, recycling facilities and an anaerobic digestion plant.
Industry body Scottish Renewables says "ambitious" plans to develop a business park, food production facilities and a training centre at the site with the hope of creating jobs and driving investment are being hindered because the business cannot import the electricity it needs from the national grid.
Site bosses hope a proposal for four wind turbines next to the site will be determined by planners in July.
Without the "renewables obligation" scheme, the turbines will not proceed, and without the low-cost, clean energy they will provide, plans for the site will not go ahead as expected, they argue.
Binn plans to develop the site, two miles south of Abernethy, with renewable energy developer Element Power, which has already committed more than £10 million to the scheme.
John Ferguson, head of strategy at Binn Eco Park, has previously written to the UK Government over plans to close the renewables obligation scheme early.
He said: "This isn't just about construction jobs, it's about long-term sustainable employment in a rural area and it's about cleaning up the carbon emissions from our business."
Niall Stuart, chief executive of Scottish Renewables, said Scotland could lose £3 billion of investment because of the decision, which he branded as "bad for jobs, bad for investment and can only hinder Scotland and the UK's efforts to meet binding climate change targets".
Asked about the decision during First Minister's Questions, Ms Sturgeon said: "This decision is wrong-headed, it is perverse and it is downright outrageous.
"I think it severely undermines any Tory claims to be pro-business."
The CBI said the decision could damage the UK's reputation as a good place to invest in energy infrastructure.
But Scottish Conservative energy spokesman Murdo Fraser MSP claimed Scottish communities would be "delighted" to no longer be "under siege from inappropriate wind developments".