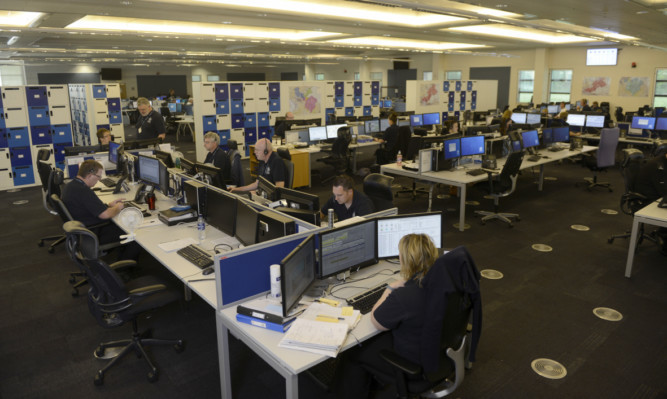 Sickness absence in Police Scotland's call-handling division has returned to the level experienced in the run-up to the M9 double tragedy.
Fresh safety fears have been raised as the absence rate at the force's C3 division hit 9.2% last month equivalent to 101 staff compared with 9.3% last June.
Lamara Bell, 25, and John Yuill, 28, died in the Stirlingshire crash in July, which exposed flaws in Police Scotland's call-handling operation.
It took three days after an initial report for police to turn up at the scene.
Ms Bell was still alive when emergency services finally arrived.
The Scottish Conservatives are concerned that the rising levels of absence mark a return to the climate which allowed the mistakes to happen.
Margaret Mitchell, the party's justice spokeswoman, said: "The latest SPA board papers reveal that the absence rate is still worryingly high, despite the changes to call handling the Cabinet secretary trumpeted last year.
"This situation needs to be closely monitored, especially in light of the senior management changes in Police Scotland over recent months.
"After the tragedy last July, no one can afford to drop the ball."
Chief Superintendent Alan Speirs, who heads C3, said almost 23,000 work for the service and, like any other large organisation, they are affected by sickness absence, especially over winter.
"Absence and the causes of it are closely monitored and managed to ensure attendance is maintained. We also have detailed resourcing plans in place to ensure service is not affected by sickness levels," he said.
"Attendance is of paramount importance to Police Scotland and, in order to ensure the best outcomes for our people, there are a number of support mechanism for those employees who may suffer from any illness."
Dundee will become the control room for the whole of the north region under controversial changes due to be implemented this year.
All calls are to be picked up at the National Virtual Service Centre in the central belt and will no longer be answered in Dundee.
The Police Investigations and Review Commissioner (Pirc) is carrying out an investigation into the circumstances of the M9 tragedy.
Meanwhile, MSPs are set to question Andrew Flanagan, the chairman of the Scottish Policy Authority, and Chief Constable Philip Gormley at a Holyrood committee on Thursday.