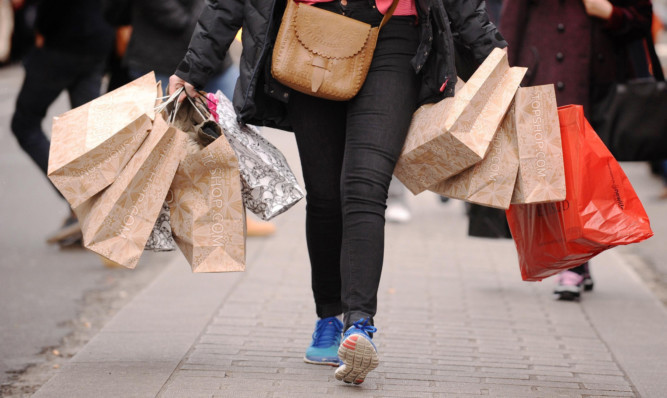 Scottish shops have enjoyed their strongest month over the past year outside the festive seasons but high street sales are still declining, figures show.
Overall sales last month were down 0.7% compared to February last year, with the non-food sector losing 0.3% and food sales declining 1.1%, according to the report from the Scottish Retail Consortium (SRC) and KPMG.
Like-for-like purchase figures, which exclude factors such as new shop openings, show existing stores lost out on a total of 1.2% compared to the previous year, with non-food sales dropping 1.3% and food sales decreasing 1.2%.
But the numbers show February was the strongest month in the past year, except for the Christmas and Easter periods, when figures are adjusted for the deflation of shop prices.
SRC director David Lonsdale said: "Retail sales in Scotland saw a welcome return to growth last month, once adjusted for falling shop prices, which was a pleasant contrast to the dire performance witnessed in January and which most retailers were glad to see the back of.
"Indeed the overall monthly performance at store level was the third best of the past year.
"The total value of grocery sales eased down once again in stores but performed ahead of the three-month average."
Online retailers provided growth to the industry by helping drive up total sales by an estimated 1.8%, while like-for-like sales were still up by 0.8% once they were adjusted for online shopping.
Mr Lonsdale said: "Non-food retail sales growth, once adjusted for the effect of online purchasing, was solid driven by categories like furniture and home accessories, mobile phones, stationery and beauty products."
KPMG head of retail David McCorquodale said spending money on the home is a sign of greater customer confidence.
He added: "Non-food sales growth of 1.8%, adjusted for online sales, is well ahead of the 12-month average of 0.6% and was driven on by spending on the home as well as sentiment around Valentine's and Mother's Day.
"Following a challenging January, there is a sense of improvement in Scotland's retail sales figures this month, giving retailers some confidence that Scottish consumers are reacting to the normal operating levers.
"Although the weather didn't relent for much of February, successful seasonal campaigns helped lift the gloom for many retailers.
"The headline figures may be negative but closer scrutiny gives cause for optimism leading up to Easter.
"The grocery sector continued to build momentum to its long haul out of the doldrums and a deflation-adjusted decline in total food sales of only 0.6% is the best non-Christmas or Easter performance for some 25 months."