 A top surveillance officer who authorised spying on journalists was warned it could breach the rules on acquisition of communications but "recklessly" approved it anyway, a police commander has told MSPs.
The senior Police Scotland officer was one of the most highly-trained and experienced surveillance officers in the UK but he "misinterpreted" the code of practice, Assistant Chief Constable Ruaraidh Nicolson told Holyrood's Justice Committee.
The claim was met with incredulity from MSPs who suggested the other officers involved in the probe – who have been forbidden from attending the committee – may reveal it was "a conscious decision" to intercept journalists' communications.
Mr Nicolson stressed this is not the case but backed the decision to withhold the four officers involved to protect their identities and avoid prejudicing a forthcoming Investigatory Powers Tribunal (IPT).
The Interception of Communications Commissioner's Office (IOCCO) last month concluded a investigation into concerns officers had been "illegally spying on journalists".
Commissioner Sir Stanley Burton ruled Police Scotland had contravened the Acquisition and Disclosure of Communications Data Code of Practice on five occasions, all said to be linked to the investigation into the murder of prostitute Emma Caldwell.
Mr Nicolson, Police Scotland's lead on organised crime and counter terrorism, said: "I am aware that the SRO (senior responsible officer) did provide advice that these kind of applications, potentially, could breach the code.
"It's not as straightforward as: the SRO provides advice and the officer has advice but dismisses that completely.
"The DP (designated person) that signed this off knew that the codes were in place, considered them, misinterpreted what the code meant and authorised it."
He added: "This individual is highly-trained with huge integrity.
"Unfortunately, one of the best officers in this area of business in the whole country – and I don't just mean Scotland, I mean the whole of the United Kingdom – has misinterpreted this.
"That is what makes this even worse from our perspective."
He continued: "The actual release from IOCCO suggests to us that it was reckless but that it wasn't wilful.
"I take some comfort that someone hasn't acted deliberately, but very little comfort I would add.
"I don't think that anybody, from what I have seen and I might be straying into the IPT determination, acted deliberately and in fact had an honestly-held belief that what they were doing was correct."
MSP John Finnie, a former policeman and member of the Scottish Greens, said: "One of the challenges we have is the growing perception that the reason you are sitting there, rather than other officers sitting there, is because chief officers in Police Scotland want to frustrate the presence of officers here.
"Because they will come and tell us that rather than some 'misinterpretation' this was a conscious decision and it reflects very poorly on the CCU (Counter Corruption Unit) and chief officers.
"We expect as a parliamentary committee the courtesy of people telling us the truth."
Mr Nicolson said: "That is not the case at all.
"We've got the tribunal coming up so we are concerned about them, from their own mouths, undermining what might happen at the tribunal and we have legal advice on that."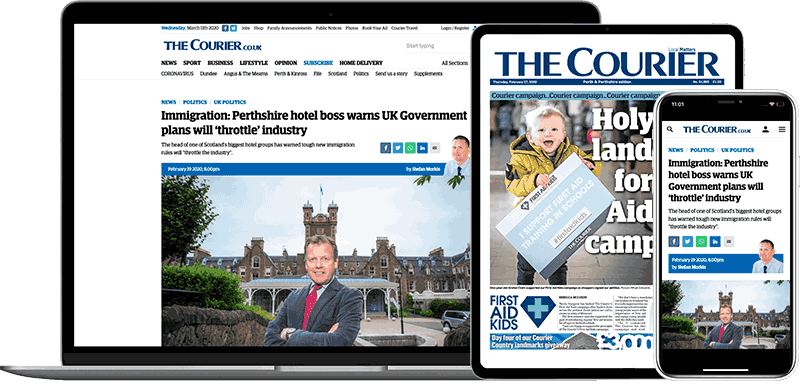 Help support quality local journalism … become a digital subscriber to The Courier
For as little as £5.99 a month you can access all of our content, including Premium articles.
Subscribe