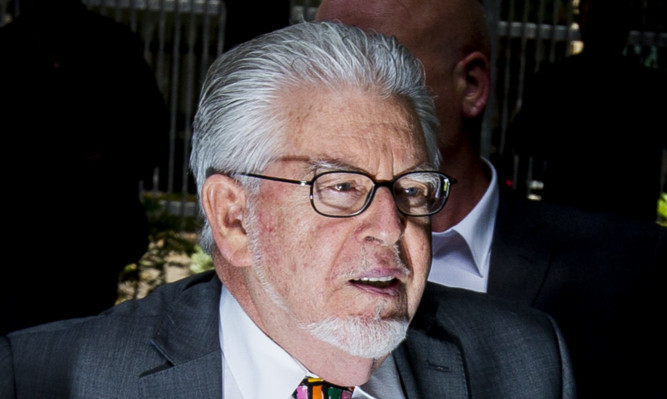 Disgraced children's entertainer Rolf Harris has appeared in court accused of seven more sex attacks – including an assault on a disabled woman.
He is also alleged to have molested a girl under the age of 14 at the BBC Television Centre in Wood Lane in west London in 1983.
And 21 years later Harris is said to have struck again at Television Centre, indecently assaulting a woman there in 2004.
The Australian-born artist, 85, is already serving a six-year sentence at Stafford Prison for sex offences against four girls, one aged just seven or eight.
He appeared via videolink at London's Westminster Magistrates' Court charged with seven more sex attacks on girls and women spanning four decades and dating back to the early 1970s.
He is said to have molested girls at the Lyceum Theatre in Covent Garden, outside Radio Victory, an independent station in Portsmouth, and in Jesus Green, a park overlooking the river in Cambridge.
He indicated not guilty pleas to all the charges.
His barrister Stephen Vullo QC requested that the full details of the charges Harris faced were not read out in court in front of the "media circus".
But this was firmly rejected by District Judge Quentin Purdy who pointed out it is a public hearing and the charges should be put in full.
Wearing a grey suit, white shirt and the same bright, colourful striped tie he wore when he was sentenced last time, Harris rested his hand on a paper cup of water as he sat at a desk in the prison room.
The elderly artist spoke to say "Good afternoon" to the district judge and gave his address as "HMP Stafford."
He said he struggled to hear the court proceedings and lawyers were repeatedly asked to speak up.
The grey-haired prisoner appeared relaxed as he sat with his hands clasped throughout the hearing.
He answered "not guilty" as the charges were put to him one by one.
The public gallery was packed with reporters from Britain, Australia and New Zealand, with some forced to stand because there were not enough seats.
District Judge Purdy sent the case to London's Southwark Crown Court where Harris will appear on April 14.