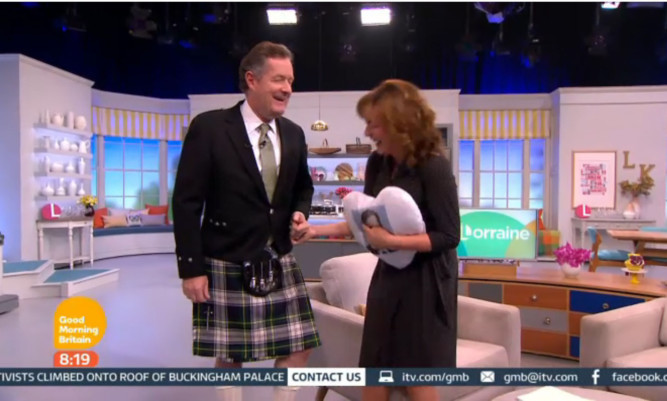 TV presenter Lorraine Kelly shocked viewers with a comment she made to Good Morning Britain host Piers Morgan as he presented her with a birthday present.
The ITV morning TV host is celebrating her 56th birthday, and was treated to a surprise from Morgan, who dressed up in a kilt to give Kelly her gift.
Morgan presented with her a heart-shaped pillow, emblazoned with his face, to which Kelly replied: "Look what he got me… I can sit on your face now."
Well I thought it would be rude to say I would use your "cushion face" as a punchbag!!
https://t.co/mASqatyglZ

— Lorraine (@reallorraine) November 30, 2015
Viewers were quick to react on social media, with one tweeting: "Lorraine talking about sitting on Piers Morgan's face is way too much for this time of day."
Another wrote: "You know it's a weird time to be watching TV when you watch Lorraine Kelly tell @piersmorgan she's going to sit on his face…"
Morgan's Good Morning Britain co-host, Susanna Reid, commented on Twitter as she retweeted a story on the incident, writing: "Oh. My. Days."
TV presenter Kirstie Allsopp approved of Morgan's birthday outfit, tweeting: "He really suits a kilt, nice ankles!"
Happy Birthday @reallorraine – I think we both know your day won't get any better than this: pic.twitter.com/jf4P7wQyks

— Piers Morgan (@piersmorgan) November 30, 2015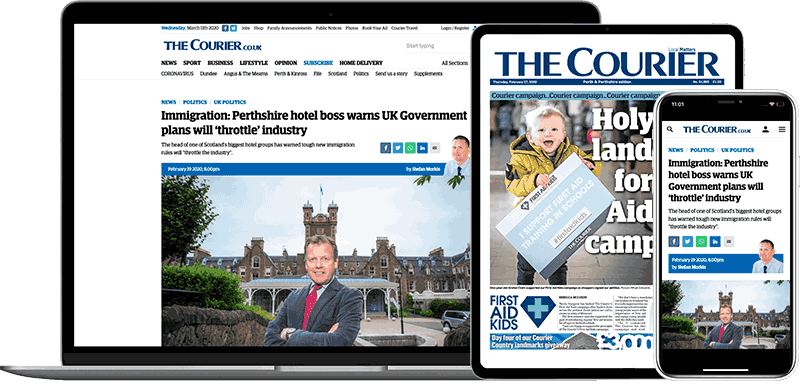 Help support quality local journalism … become a digital subscriber to The Courier
For as little as £5.99 a month you can access all of our content, including Premium articles.
Subscribe