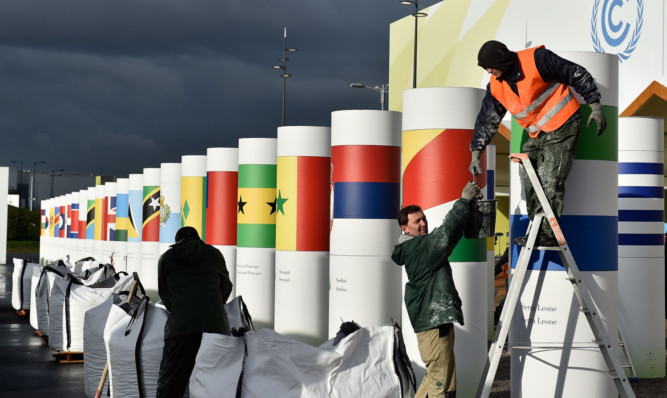 It's official. Climate change made 2011 to 2015 the warmest five-year period on record, according to the latest World Meteorological Organisation's (WMO) state of the global climate report.
It means that 2015 is set to be the single hottest year ever registered, with planetary temperatures passing the symbolic milestone of one degree C above pre-industrial levels.
The report by the United Nations' respected weather body blames the temperature rise on man-made global warming and the effects of the El Nio oceanic phenomenon.
The WMO's secretary-general, Michel Jarraud, told a press conference in Geneva that the findings were "all bad news for the planet" with extreme weather events increasingly linked to climate change.
But as more than 130 world leaders gather for the 21st annual United Nations Climate Change Conference (Conference of the Parties COP 21) in Paris on Monday November 30 to discuss emissions cuts beyond 2020, what can they really achieve?
According to commentators, there is optimism that, unlike the Kyoto summit in 1997 and Copenhagen in 2009, a deal will emerge that brings together more than 200 countries, responsible for all of the world's carbon emissions. The 1997 summit failed largely because the US Congress Failed to ratify the deal and in 2009 too many countries were fighting the economic crisis to commit resources to global warming.
Concerns have been raised that the bar may have been lowered so much to increase international co-operation that the world is barely saved from further disastrous rises in temperature. But with China, as the world's largest polluter now on board, hopes are high of meaningful progress.
Lang Banks, director of WWF Scotland who is in Paris for the talks, said:"Thanks to moves from some of the big players like the US and China, the prospects for meaningful progress on global climate action in Paris are positive. However, what is currently on the table in the way of a draft text and individual country pledges are not yet enough to keep people and nature out of danger.
"The leadership shown by countries like Scotland with our ambitious climate change targets is very helpful, but would be far more powerful if we could show we're meeting those targets and our society was on track to become a low-carbon powerhouse."
Perth-based Royal Scottish Geographical Society chief executive Mike Robinson, who as an individual helped set up Stop Climate Chaos Scotland, said: "The fact that the world's governments have come together again to try to agree a global framework for dealing with climate change is an indication of the severity of the issue, and the absolute acceptance of the need to act.
"Paris is the 21st formal annual COP, but it promises to be a particularly significant test of the international will and commitment to reach a meaningful deal."
Mr Robinson said that going into the negotiations, there are commitments from nearly 95% of countries to reduce their greenhouse gas emissions.
These include commitments from the USA and China, both of whom have dragged their heels in previous negotiations.
But even then, he said, the total emission reductions to which countries have indicated commitment are forecast to keep any global warming to at minimum a 3C rise in global average temperature.
He added: "It is better than previous commitments but it is still well short of what is required if we are to avoid the worst impacts of climate change.
"We need to keep any likely global temperature rise as low as possible (and definitely below 2C according to most commentators), as even a small change can trigger all sorts of unexpected consequences.
"This is a very high-risk 'game' to be playing. You wouldn't want a 3C (5.5 F) rise in your own body temperature, and we can't afford the planet to have one either. "
Friends of the Earth head of campaigns Andrew Pendleton said the global temperature rises were a "resounding wake-up call from the planet to world leaders".
He added: "Its message is that their efforts fall a long way short of what's needed to prevent global warming from wrecking people's lives.
"Industrialised countries must show leadership to convince developing nations that they're serious about reducing emissions quickly and decisively. They must also help poorer countries deal with growingly ferocious climatic events.
"The UK Government's actions ahead of crucial climate talks have been a disgrace. Since winning the general election, ministers have repeatedly gone out of their way to undermine investment in clean renewable power, while boosting investment in dirty gas and oil. This sends out all the wrong messages and will not tackle climate change.
"The success of the COP itself though, will ultimately rest on the level countries will commit to reduce emissions by and how quickly. And how it will be paid for. There needs to be a legal and funding framework to enforce targets and support adoption of low carbon technology by developing nations."
malexander@thecourier.co.uk