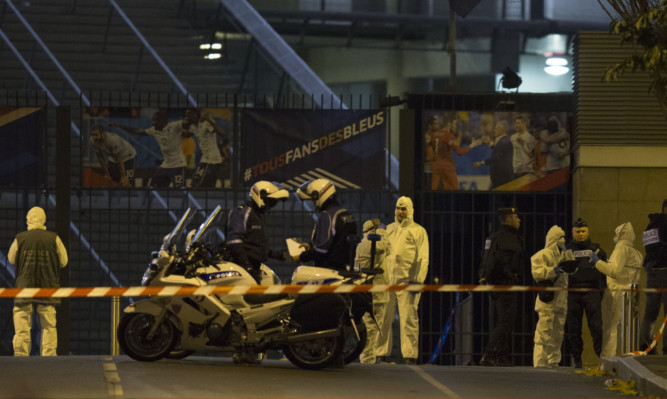 Two more of the suicide bombers responsible for the Friday the 13th terrorist rampage across Paris that killed 129 people have been named.
Meanwhile France launched air strikes against Islamic State (IS) targets in Syria, and French media reported a series of new arrests of suspects across the country.
A judicial source said a 20-year-old Frenchman police identified as one of the three suicide bombers to strike at the Stade de France stadium was Bilal Hadfi.
A 31-year-old identified by police as the suicide bomber who detonated his explosive vest on Boulevard Voltaire in Paris was named as Brahim Abdeslam, the source said.
Abdeslam is the older brother of 26-year-old Salah Abdeslam, who is currently the subject of an international manhunt.
A third suicide bomber, Ismael Mostefai, 29, had already been named by police, after being identified through remains found at the Bataclan music hall, another of the six separate attack sites across Paris and its suburbs.
French media reported there had been arrests in Grenoble, in south-eastern France, where anti-terror officers recovered firearms and cash.
There were also reports of raids in Jeumont, on the border with Belgium, Toulouse and in Bobigny, in the north-eastern suburbs of Paris.
France said it launched "massive" air strikes on the IS group's de-facto capital, destroying a jihadi training camp and a munitions dump in the city of Raqqa, where Iraqi intelligence officials say the attacks on Paris were planned.
Twelve aircraft, including 10 fighter jets, dropped a total of 20 bombs in the biggest air strikes since France extended its bombing campaign against the extremist group to Syria in September, the defence ministry said.
The jets launched from sites in Jordan and the Persian Gulf, in co-ordination with US forces.
Foreign minister Laurent Fabius said France had the "legitimacy" to take action against Islamic State after the terror attacks in Paris.
Speaking on the sidelines of the G20 summit in Turkey, he said the decision to conduct airstrikes in Raqqa against IS targets was a "political" one.
France had to be "present and active" following Friday's attacks, Mr Fabius said.
As police announced seven arrests and hunted for more members of the sleeper cell that carried out the Paris attacks, French officials revealed that several key suspects had been stopped and released by police after the attack.
The arrest warrant for Salah Abdeslam calls him very dangerous and warns people not to intervene if they see him.
Yet police already had him in their grasp early on Saturday, when they stopped a car carrying three men near the Belgian border.
By then, hours had passed since authorities identified Abdeslam as the renter of a Volkswagen Polo that carried hostage takers to the Paris theatre where so many died.
Three French police officials and a senior French security official confirmed that officers let Abdeslam go after checking his ID.
Tantalising clues about the extent of the plot have emerged from Baghdad, where senior Iraqi officials said France and other countries had been warned on Thursday of an imminent attack.
An Iraqi intelligence dispatch warned that Islamic State group leader Abu Bakr al-Baghdadi had ordered his followers to immediately launch gun and bomb attacks and take hostages inside the countries of the coalition fighting them in Iraq and Syria.
The Iraqi dispatch, which was obtained by the Associated Press, provided no details on when or where the attack would take place. A senior French security official said French intelligence gets these kinds of warnings "all the time" and "every day".
However, Iraqi intelligence officials told the AP they also warned France about specific details – including that the attackers were trained for this operation and sent back to France from Raqqa.
The officials also said that a sleeper cell in France then met the attackers after their training and helped them to execute the plan.
There were 24 people involved in the operation, they said, 19 attackers and five others in charge of logistics and planning.
The Islamic State group claimed responsibility. Its statement mocked France's air attacks on suspected IS targets in Syria and Iraq, and called Paris "the capital of prostitution and obscenity".
In all, three teams of attackers including seven suicide bombers attacked the national stadium, the concert hall and nearby nightspots. The attacks wounded 350 people, 99 of them seriously.
Abdeslam rented the black Volkswagen Polo used by the hostage-takers. A Brussels parking ticket found inside led police to at least one of the arrests in Belgium, a French police official said.
Three Kalashnikovs were found inside another car known to have been used in the attacks that was found in Montreuil, an eastern Parisian suburb.
As many as three of the seven suicide bombers were French citizens, as was at least one man arrested in the Molenbeek neighbourhood of Brussels.
Mostefai had a record of petty crime and had been flagged in 2010 for ties to Islamic radicalism, the Paris prosecutor said.
Police detained his father, a brother and other relatives and they were still being questioned.
Struggling to keep his country calm and united after an exceptionally violent year, President Francois Hollande met opposition leaders – conservative rival and former president Nicolas Sarkozy as well as increasingly popular far-right leader Marine Le Pen, who has used the attacks on Paris to advance her anti-immigrant agenda.
Refugees fleeing war by the tens of thousands fear the Paris attacks could prompt Europe to close its doors, especially after police said a Syrian passport found next to one attacker's body suggested its owner passed through Greece into the European Union and on through Macedonia and Serbia last month.
Paris remains on edge amid three days of official mourning. French troops have deployed by the thousands and tourist sites were closed in one of the most visited cities on Earth.
But the city's museums will reopen today, including the Louvre and the Musee d'Orsay.
Culture minister Fleur Pellerin said all museums in Paris and nearby towns will reopen at noon UK time, following a minute of silence being observed across France an hour earlier.
mfl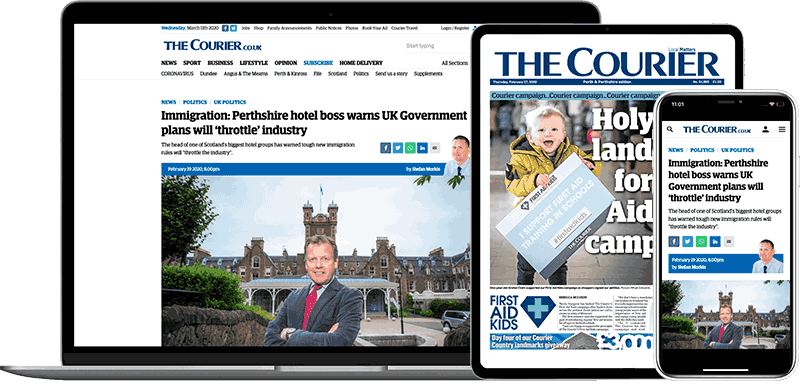 Help support quality local journalism … become a digital subscriber to The Courier
For as little as £5.99 a month you can access all of our content, including Premium articles.
Subscribe