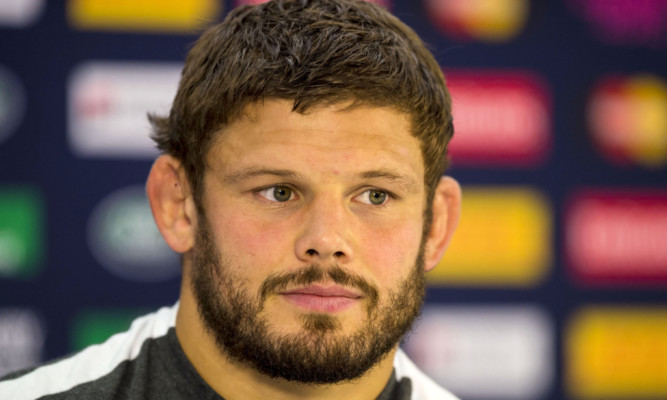 In 1998, long before the days of multi-angle replays and citing commissioners, South Africa accused a youthful Jason White of stamping on the head of one of their players in a dirt trackers midweek game.
Nick Mallett, coach of the Springboks at the time, said to the press afterwards there was a headguard cut to pieces by White's actions. We never actually saw the said headguard, of course.
Scottish Rugby's response to the South African claims was swift and immediate. Accepting every element of the Mallett story and the accusation apparently without question – the referee hadn't handed out any on-field sanction and there was no TV coverage – White was banned for four months.
It was a significantly more stringent penalty than anything being handed out at the time, and there was a definite element of the Scots wanting to prove to their tourists – world champions at the time, remember – how serious they were about foul play.
A few days later the Springboks handed out Scotland's record defeat at Murrayfield, 68-10. It's hard to imagine how much more accommodating we could have been to them.
There's many examples of the SRU doing this, penalising their own players as if in a crusade against themselves, down the years.
One of the most famous was in the aftermath of the 1988 Calcutta Cup match, when John Jeffrey and Dean Richards, in a state of some excitement following the official dinner, caused some damage to the great old trophy.
The pair were severely reprimanded for their actions, and sent to their home unions for punishment. Jeffrey got a six month ban from the SRU. Richards got a one week ban from the RFU.
That famous equality was brought back to light in the wake of the appalling mess of inconsistency that is the current Rugby World Cup disciplinary process.
There is no plausible explanation why Sean O'Brien got a one week ban for a clear punch on Pascal Pape, or David Pocock gets just a warning for a clearly intentional knee on a defenceless Scott Baldwin, or Rob Louw gets a "watch the clearout" warning from the referee for a clear tip tackle on a Samoan, or Marcelo Bosch tip tackles a player in open play yet gets just a week's ban.
At the same time, Ross Ford and Jonny Gray are handed three week bans – ruling them out of the rest of the tournament – for a clearout that resulted in a Samoan player landing on his neck while Alesana Tuilagi of Samoa gets a five week ban – later reduced – for raising a knee into the tackle of a Japanese player.
It's so inequitable it makes a complete mockery of World Rugby's insistence just a day previously that their disciplinary process was fair and honest.
You look down the list of offences in this World Cup and it's clear there's a demarcation between the players of established nations and those that are deemed not to matter or, perhaps in Scotland's case, largely acquiescent and craven to authority.
In the England-Australia Pool A game, there were three examples of serious foul play: Michael Hooper's shoulder charge on Mike Brown, Owen Farrell's late hit on Bernard Foley and Sam Burgess' wild high tackle on Matt Giteau, the latter two examples occurring on the same play. All three resulted in players receiving treatment before they could continue to play.
The cumulative sanction for these assaults? One week of a ban given, still leniently, to Hooper. Yet Scotland lose two players in an incident involving an opposition player who wasn't even hurt?
Frankly, I have no problem with the citation, and no truck with conspiracy theorists who point out it was an Australian citing commissioner who made it.
An examination of the evidence shows the case for action against Jonny Gray is clear, although the penalty imposed on him is severe compared to others.
But the tape shows that Gray's lifting of the legs is what causes the problem. Ford is engaged in a purely legal clearout that only becomes illegal because of Gray's action.
That the veteran hooker, with a spotless disciplinary record over 92 caps, should get this wholly unwarranted sanction now, in what is surely his final World Cup, just compounds the sense of injustice.
Even more ludicrously, the fact that the Scots denied wrongdoing seems to have counted against them. O'Brien's admission of guilt for a punch that he could hardly deny, visible as it was to millions on TV, somehow gets him credit.
The bans won't be reversed to allow either Scot to play against Australia this weekend; there's no precedent for wiping out a disciplinary panel's decision.
But Scottish Rugby should turn as many barrels as they can on World Rugby anyway.
Our past history in these instances has been far too meek and we've shown a willingness to impose punishment beyond that prescribed even to our own players.
No wonder World Rugby feel comfortable about making an example of the Scots, perhaps to counter the accusation that Tier 2 players have been getting stricter attention on discipline than the Tier 1 or so-called "elite nation" players.
This time, instead of cringeing, the worm has to turn.