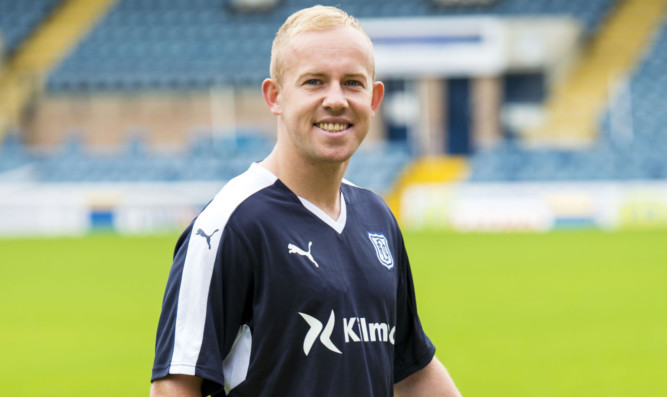 Nicky Low insists that he has joined Dundee with his sights firmly set on securing regular football and silverware.
The former Aberdeen midfielder kicked off his career at Dens yesterday, helping model the revamped home kit for the season ahead.
And the 23-year-old wasted no time in stating his ambitions and stressing that he is really up for the cups.
Low said: "Coming up last year, the boys did really well getting into the top six.
"They had a terrific season and I am sure that like most teams apart from Celtic, the best chance to get silverware is in the cup competitions.
"I think if you look at teams in previous years, you have the likes of Kilmarnock and St Mirren winning them so I don't see why Dundee can't. As the gaffer said in an interview recently, we will be going all out to win a cup."
Low had come up through the youth ranks at Pittodrie but had found first-team opportunities few and far between.
He was determined to do all he could to change that, and he took inspiration from a previous Dons club skipper a certain Paul Hartley.
The current Dundee boss would often stay behind after training to help the youngster and when Hartley became manager of Alloa, Low had no hesitation in agreeing to follow him there on loan.
Explaining how his move to Dundee came about, Low said: "After training one day last season, Derek McInnes popped into the office and said that Paul had phoned and he was interested in me for next season.
"He asked if I would be interested, I said, 'Yes', and he spoke to my agent. The deal came through after that fairly quickly.
"Paul really sold me on the club. I enjoyed my time with him when he was manager at Alloa and previously when he was my captain at Aberdeen.
"I was young then but I trained every day with him.
"We play in a similar position but obviously I am left-footed and he is right but after training he taught me where to be on the pitch and what I was doing wrong.
"He helped me and encouraged me, taking time out and I really appreciated that.
"It is good for a captain to lead by example and he did that.
"When the young boys saw him, it made them want to stay back and practice free-kicks, penalties and passing as well.
"When he first came to the club, everybody stood up and took notice he was just a great example to everyone and they all followed on from there.
"When he went to Alloa, he phoned and asked me if I would be interested in a loan move. I enjoyed my time there and training was really good so I was very keen to come to Dundee.
"As soon as I found out there was interest, I wanted to get it done.
"Derek has done a really good job at Aberdeen and I think it is a club going forward.
"But for myself personally, I thought I needed to go and play more games.
"I wasn't happy sitting on the bench and just playing a few matches.
"I thought I had more to offer so I was really keen to come to Dundee.
"It was a bit emotional walking out of Aberdeen after 15 years. I have been there my whole career.
"But this is a fresh start for me."