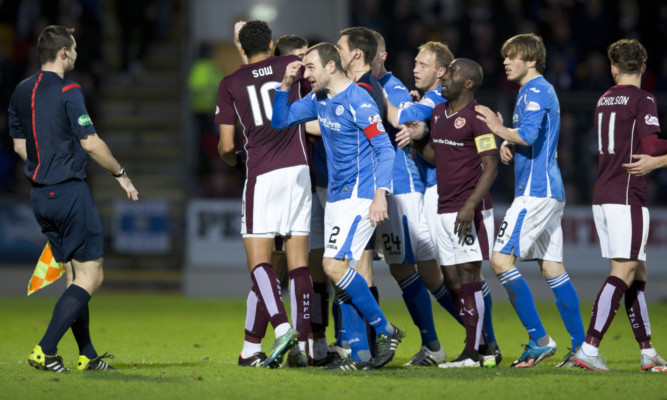 St Johnstone's David Wotherspoon is adamant referee Kevin Clancy was right to red card Juanma.
The Hearts player was sent off after just 28 minutes of Saturday's goalless draw between the sides at McDiarmid Park for a head-butt aimed at the Saints midfielder.
The contact was minimal but the intent was there as Juanma retaliated for what he thought was a kick out at him by his opponent.
Wotherspoon admitted that he did catch the Jam Tarts striker with his legs after he was fouled but insisted any contact was accidental.
He also claimed Juanma did make contact – however slight – with his head and definitely deserved to go.
Wotherspoon said: "First of all, it was a freekick on me.
"He pulled me down and as I have fallen down to the ground my legs have caught him on the back.
"So when I got up he wasn't happy.
"I was a bit angry at being pushed to the ground but I didn't mean to kick him or anything like that. I just happened to catch him.
"He turned, pushed me and then stuck his head towards me.
"I went down but I got straight back up and the referee had to make a decision.
"I feel it was a red card.
"I don't think you are allowed to put your head in someone else's face.
"He actually caught me and you just can't do that. It wasn't right.
"He caught me on the nose. It wasn't a lot but it was my natural instinct to go backwards.
"I don't feel like I have done anything wrong.
"One of the Hearts players – I think it was Sam Nicholson – pulled me away so they obviously knew that he had done something wrong."
Wotherspoon wasn't the only one who felt the referee got it right.
Juanma's teammate Callum Paterson reacted with fury to the Spaniard's action, yelling at him and gesturing as if to suggest he had been stupid.
That was something which was picked up by Saints boss Tommy Wright.
Wright said: "I think it was the right decision.
"You just had to look at Callum Paterson's reaction when he (Juanma) went off.
"He was having a right go at him for doing it.
"I am pleased with how David reacted to it.
"He didn't roll about on the floor and, instead, got back up on his feet.
"There was a movement towards him and you can't do that."