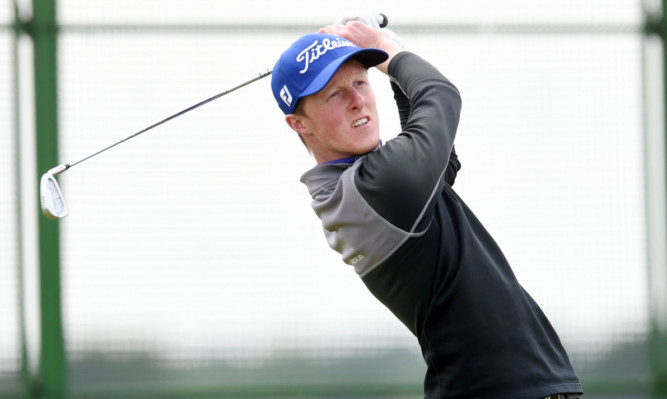 You'd probably be hugely enthusiastic about your golf too when the recent alternative was studying Euler's Theorem, and Jack McDonald certainly is.
The semi-finalist in the 2012 Amateur Championship in his home town at Royal Troon started on the trek for the 2015 version at Carnoustie with a resounding first round victory over American Frederick Wedel, as he aims to make his golf his focus for the next couple of years.
This is after completing his honours degree in Applied Maths at the University of Stirling, where one his final degree projects was poring over the complex formulas of Leonhard Euler, the renowned 18th century Swiss mathematician.
"I had a bunch of projects for the end of my course which involved a lot of work," he said. "I don't really want to have to think about that for a bit."
Instead, his degree secured, the 22-year-old is simply going to give some full-time focus to his golf over this season and next, and see where that takes him.
McDonald has been down the track in the Amateur before, and even as accomplished a player as Wedel – one of last year's US Amateur semi-finalists, from Texas had little answer to his experience.
"I'm pretty well used to playing matchplay games in these sort of conditions whereas I think Frederick maybe wasn't," said Jack. "The idea is to just to concentrate on my own game, stick to par as much as possible, and that worked today."
His only double-bogey, at the fourth, was still good enough for a half with Wedel struggling, and apart from a birdie at the 12th he stuck to pars for his 6 and 5 win.
"Hopefully the experience from three years ago will help, and it was certainly good for my game at the time," he recalled. "It gave me the confidence to know that I could play at this level."
Five of the eight Scots came through the first round, but not Craig Howie, the leading qualifier who suffered the fate of as many as 17 medallists since 1983, losing his first game in matchplay to Italy's Michele Cea 2 and 1.
The Borderer seemed to be on his way back at the 15th, one down with a putt for birdie and the Italian off the front of the green. Instead the Italian holed from 50 feet, Howie missed and was closed out at the 17th.
Craig's consolation is that those 17 include the likes of Stephen Gallacher, Nick Dougherty and Simon Dyson, all of whom went on to win the lucrative Alfred Dunhill Links Championship, among other notable deeds.
Although big home hope Ewen Ferguson suffered for wildness on the first few holes and eventually went out 2 and 1 to Wales' David Boote currently at Stanford, Tiger Woods' old university – Grant Forrest went through comfortably.
The Craigielaw player, who would complete nearly a full hand of the top order events by winning here, gaining fulsome revenge over fellow Lothians player Zander Culverwell for his defeat in their meeting in the 2013 Scottish Championship semi-final at Blairgowrie with a 6 and 4 hammering.
Thornhill's Greig Marchbank, who beat another American in Ryan Stovash 3 and 2, is notable as a player who opted out of the strictures of the Scottish international squad system a couple of years ago only to return to the fold during the last year. "I was just happier doing my own thing, but it's good to be back involved," he said.
Meanwhile Craig Ross and Robert MacIntyre both despatched members of the 13-strong Australian team that has invaded the top Scottish events in recent weeks.
The diminutive Ross defeated Cameron Davis 2 and 1 while MacIntyre, newly back from college in Louisana where the humid conditions could hardly be more different than windy Carnoustie, accounted for DJ Loypur on the final green.
There's another Scot – or at least one who would easily qualify for the national soccer and rugby teams – in James Yule, who is staying with his gran in Dundee this week.
Dad Iain now based in Kings Lynn and Norfolk County captain last year – went to Harris Academy and both he and James' grandfather were members at Kirriemuir.
The 22-year-old has played a number of events in Scotland in the past looked well at home at Carnoustie blazing to a 5 and 3 win over one of the highly-rated Irish contingent, Dermot McElroy.
The matchplay had its usual fair share of upsets, with World No 3 Marcus Kinhult's demise, fresh from leading the Nordea Masters on the European Tour at the halfway mark a couple of weeks ago, particularly shocking.
The Swede was three up with four to play on Norway's Vetle Maroy but lost 15 to a birdie and the last three holes to pars to crash out.
Mario Galiano of Spain, ranked 15th in the world, was another casualty while US Walker Cup cap Jordan Neibrugge and Ireland's big hope, Walker Cup hopeful Jack Hume, also failed to clear the first matchplay hurdle.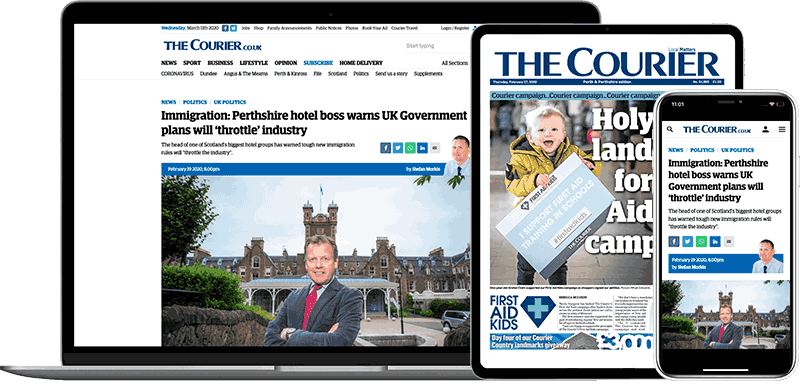 Help support quality local journalism … become a digital subscriber to The Courier
For as little as £5.99 a month you can access all of our content, including Premium articles.
Subscribe