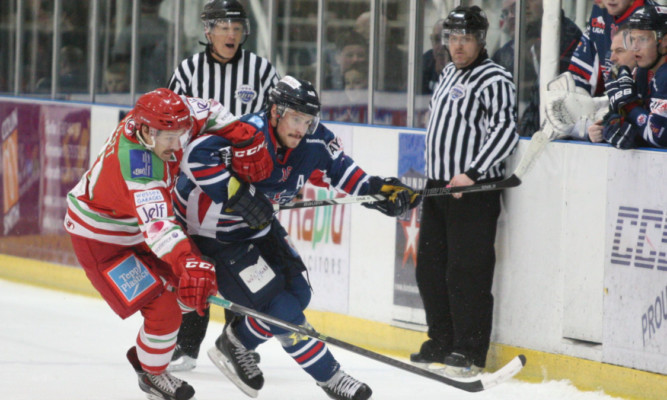 Two late strikes last night proved a body blow to misfiring Dundee Stars.
Cardiff Devils' Joey Haddad and Jake Morissette found the net in seven nightmare minutes for the home team, giving the side from Wales the points while rock-bottom Stars' nightmare start to the season continued.
The Tayside team, third in the league last season, have 11 points from 21 games.
Second-bottom Edinburgh now have 15 points from 19 starts while Hull Stingrays, who occupy eighth place, the final play-off berth, have 16 points from 18 fixtures.
Fife Flyers are in seventh spot with 18 points from 19 games but Dundee are in deep trouble.
Joey Martin opened the scoring for Devils after 10 minutes but Igor Gongalsky levelled on the power play after 21 minutes. The scoreline was deadlocked until Haddad scored in the 51st minute and Morissette's clincher came after 57 minutes.
Cardiff are fifth with 23 points from 19 games and their Devils' netminder Ben Bowns dealt with 21 shots. Dundee stopper Marc Cheverie's figure was 30.
Saturday's games
Elite League Dundee Stars 1 Edinburgh Capitals 2 (after penalty shots). Challenge Cup, Group A Fife Flyers 2 Belfast Giants 3 (after overtime).
Fife Flyers head coach Todd Dutiuame had mixed emotions following his side's overtime Challenge Cup Group A defeat by high-flying Belfast Giants.
The Canadian is annoyed his men let slip a 2-1 lead with less than four minutes left, then came out second best in overtime.
But he is pleased that Flyers pushed one of Britain's leading sides to the wire in an entertaining clash at Rosslyn Street.
Flyers went behind after seven minutes when Mike Kompon netted on the power play for Group A pace-setting Giants. Nine minutes later Scott Fleming levelled and Bobby Chaumont put Flyers ahead in the 48th minute.
Nine minutes later Mark McCutcheon slotted home from a pass delivered by Colin Shields to level and Calvin Elfring proved the game-winner 1min 37sec into the overtime session.
The result leaves Fife, who gave a debut to new Swedish stand-in netminder Jack Astedt on Saturday, second in the Group A standings with 12 points from eight games.
The Kirkcaldy club are two points behind leaders Braehead Clan who have also played eight games and on the same mark as third-placed Belfast who have won their last two games in the competition.
All three have now qualified for the next stage as have Dundee Stars who have lost their last three games but have six points, five more than Edinburgh who have lost all their eight matches.
Edinburgh Capitals' 2-1 shoot-out success at Dundee Stars on Saturday was a massive blow to the Tayside club's ambitious coach Jeff Hutchins.
In the 10-strong league, Dundee have 11 points from 20 games while Edinburgh have 13 from 18 starts and Hull are on 15 points from 17 games.
Hull lost 4-0 at home to Nottingham Panthers, who are third, on Saturday.
Capitals struck early on Tayside, Dennis Rix slotting after 31 seconds. Shane Lust levelled after 34 minutes and Greg Collins netted the penalty decider.
* Scottish National League Solway Sharks 2 Dundee Tigers 4.