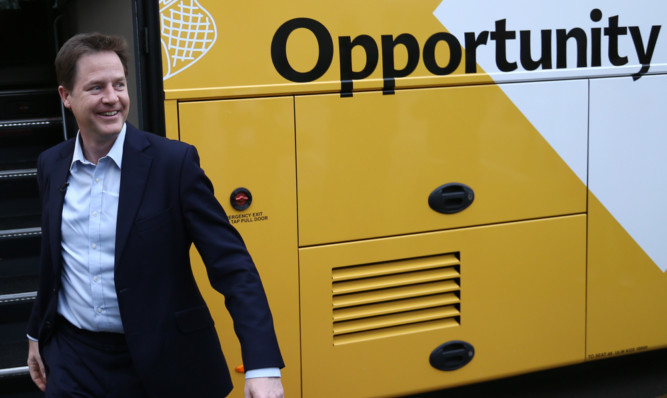 Nick Clegg has launched a raid into Tory territory in an effort to unseat a coalition minister.
The Liberal Democrat leader claimed his party could defy its poor national opinion poll ratings to snatch Maidstone and The Weald, a seat held with a majority of almost 6,000 by sports minister Helen Grant.
The party released internal polling suggesting the Lib Dems were four points behind the Tories in the seat but could capitalise on Ms Grant's local unpopularity.
Asked if he believed the party could gain the seat on May 7, Mr Clegg said: "You bet."
He said Lib Dem candidate Jasper Gerard was "one of the most energetic, most dynamic campaigners I have ever come across in any party".
Former journalist Mr Gerard, who sold his house to fund his campaign, joined the Lib Dem leader on a visit to MidKent College in Maidstone.
Mr Clegg said: "He himself, even before he has become MP, is doing more for the local area than the sitting MP, a rather unpopular Conservative MP."
He added: "I would place a little bet that we will actually pull off a big surprise here. I am constantly being told the Liberal Democrats are only involved in shoring up our defences and protecting those seats we already hold.
"This seat shows that there are parts of the country where we hope to win seats off the other parties and I predict we will."
Polling by Survation for the Lib Dems in January, involving 405 adults in the constituency, showed the Tories on 34.5% and Mr Gerard on 30.2%.
The party has been encouraged to direct resources at the seat by the poll's figures showing a minus 5.3% net popularity rating for Ms Grant.
A senior Lib Dem strategist said: "We are not saying by any stretch this is a done deal, what we are saying is, given the circumstances and given her unpopularity, this is a seat worth fighting for for us."
Ms Grant held the seat for the Tories with a majority of 5,889 after high-profile former minister Ann Widdecombe stood down in 2010.
Since becoming MP Ms Grant has hit the headlines with a row over her expenses claims and her suggestion that there was a "lot to be said for the 'staycation"' at the height of the passport fiasco last summer.
But in a sign that Mr Clegg's own unpopularity with the electorate remained a factor, he was challenged about his party's U-turn on tuition fees during his tour of the college.