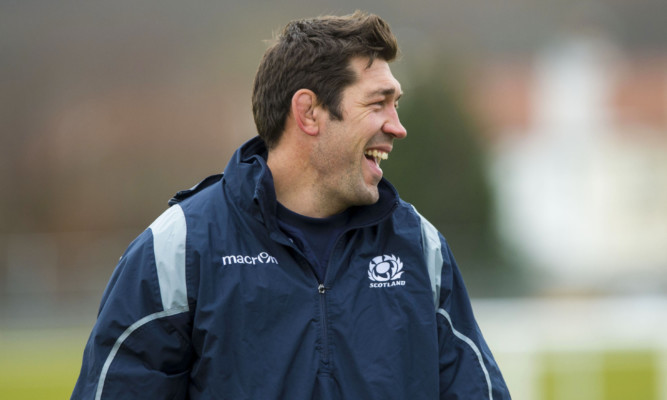 France may have been "a bit clunky" so far in the RBS 6 Nations but they could cut loose without warning at any time, warns Scotland assistant coach Nathan Hines.
The former lock who played for Perpignan and Clermont Auvergne during his career in France believes that although the French have failed to impress so far despite two home wins and pushing Wales close in Cardiff it's only a matter of time.
"They've got individuals to help them out of sticky situations but as a team they're still a bit dysfunctional," said Hines. "In France you don't get a lot of support from the club game, I'm sure (head coach) Guy Noves knows this from his time on the other side of the fence coaching Toulouse.
"I'm sure he's managing expectations. They haven't had a lot of time together.
"Their offload game is strong, they've had the most in the tournament and that's something we'll have to snuff out. The more time they spent together and the longer we go in this tournament, and especially in the next year more so, we'll see a resurgence of the traditional French style."
However what Hines expects is a big pack that will try to outmuscle Scotland, as they did in Paris in the second half last year.
"I don't think a lot will change, although they'll be trying to adapt their game to who they are playing as well," he said.
"They'll drive lineouts, go for set-piece dominance and try and get their speedsters into the game. Their structure and the way they try to do that is a little bit different which is maybe why they're a little bit clunky at the moment, but their basic philosophy of the game is near enough the same.
"I think they'll just try to bash us upfront and then release the backs. It's a simple game, isn't it?"
Scotland were unable to stop the French lineout drives last year but it's an area that's proved better this year, especially against the Italians who were largely stopped from operating their staple attacking method.
"It's been technique and attitude," said Hines, a master at the defensive aspects of the maul as a player and bringing that experience to the Scottish squad now.
"We defend quite well at the start of the lineouts so that puts a bit more pressure on them. We are a little bit more aware of the way we want to defend the driving maul.
"It's a tough thing to coach and be in the middle of. We are doing as much as we can in training without tearing limbs off. We haven't conceded many points by that route as yet, if any."
Sunday will be a different examination, and the Gray brothers will be key figures, he added.
"There's still a lot of development still in them," he continued. "You forgot how young Jonny is all the time, just because of the mature way he goes about his business.
"You forget he's come from Under-18s, straight into Glasgow then straight into Scotland.
"Those two guys do a lot of work for us, Jonny especially, but Richie organising lineout and there's still improvements in them even though they are good players already.
"The main thing from those two and a lot of the guys in the squad is they want to get better. That's the hard thing to coach, you can't make someone want to be better.
"Everyone in this squad wants to get better, to win and do well and to keep their spot in the team."
Assistant coach Jon Humphreys is with the squad despite the tragic news from home in Wales that his mother-in-law, Christine James, was found dead in her Cardiff flat last week.
A 66-year-old man is being held on suspicion of murder.