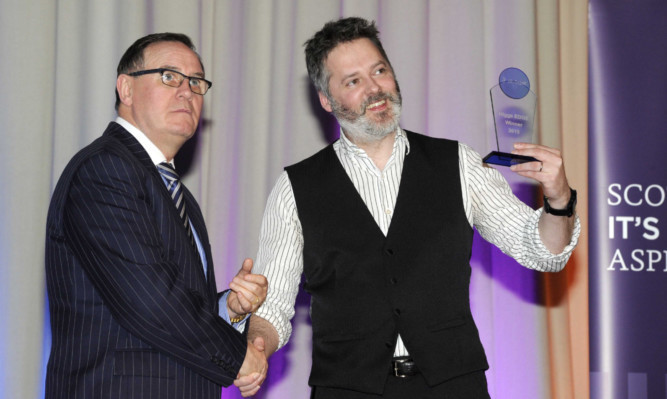 A Rosyth company developing a camera to help prevent blindness is the major winner in the latest round of Scottish Edge awards.
Epipole received the programme's biggest prize so far of £150,000.
A total of £1.245 million has been awarded to Scotland's most promising start-ups as Scottish Edge fund awards top £5m.
Scottish Edge is a funding competition to identify Scotland's top, innovative, early stage and high growth potential entrepreneurs.
Serial entrepreneur Sir Tom Hunter and RBS took the scheme over from Scottish Enterprise and Highlands and Islands Enterprise.
They created a £5m-plus fund along with the Scottish Government, with the majority of the money from the private sector.
Millions of diabetes sufferers worldwide could have their sight saved thanks to epipole's portable and affordable eye-scanning camera, the epiCam(R).
It can detect diabetic retinopathy, a condition responsible for two million cases of preventable blindness worldwide by identifying tell-tale signs such as blood clots at the back of the eye.
Dr Craig Robertson, managing director and founder of epipole, came up with the idea after working in retinal imaging.
He realised the only cameras available for this type of scanning were impractical in terms of portability, generic use and cost, with individual units costing upwards of £40,000.
He patented his handheld camera and software, likely to cost around £1,500, which can connect to laptops via USB, allowing doctors to beam results from remote communities to anywhere in the world.
Epipole is targeting the Indian market where there has been an alarming increase in the level of confirmed diabetes.
Approximately 60m people have been diagnosed but in a country of a billion people the total number of sufferers could be a lot higher.
Dr Robertson has secured significant investment to develop the epiCam(R), and the product is now market ready and in production.
The investment was the first major contract for the Scottish angel syndicate Lancaster.
Epipole received the £150,000 in the Higgs Edge category for Scotland's most promising early stage science, technology and engineering businesses.
In the main section Space Budgie, a Dundee independent studio, won £30,000 for Glitchspace, a game to engage consumers in programming.