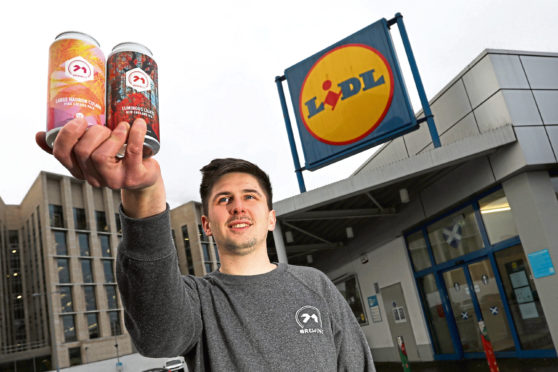 Dundee beer company 71 Brewing has secured its first supermarket listing with a pale ale based on a pina colada.
Lidl will stock two exclusive beers from the Dundee company across all of its Scottish stores.
71 Brewing's Large Hadron Colada is made with pineapple, tropical hops and a hint of coconut.
The firm will also supply a New England IPA called Luminous Lights, which it says packs a citrus punch.
Craig Cunningham, sales operation manager at 71 Brewing, said the deal came after the firm's beers sold well in an in-store beer festival Lidl held last year.
He said: "They wanted to do a something a bit different. They liked our branding, they liked our beer.
"The beers they stock might change but they are going to have 71 Brewing in all the 100 plus Lidl stores in Scotland all year round.
"We have two new tanks outside that are going to be used for Lidl.
"It's a really big deal for the company and it means we have guaranteed sales. It gives the business more security."
Mr Cunningham said the announcement topped off a year of growth for the beer firm which employs 15 staff at the former Blackness foundry in Bellfield Street.
"We are exporting to eight countries as well as round the UK.
"Italy is our main export market but we are into several countries in Europe.
"The business as a whole has been a lot busier this year.
"We are producing more limited edition specials that keep the company interesting.
"We are looking for more expansion and employment next year."
Paul McQuade, head of buying in Lidl Scotland, said: "71 is known for creating beers inspired by progressive new world flavours and we're confident that our customers will enjoy these exclusive beers that offer something different from the norm."
rmclaren@thecourier.co.uk