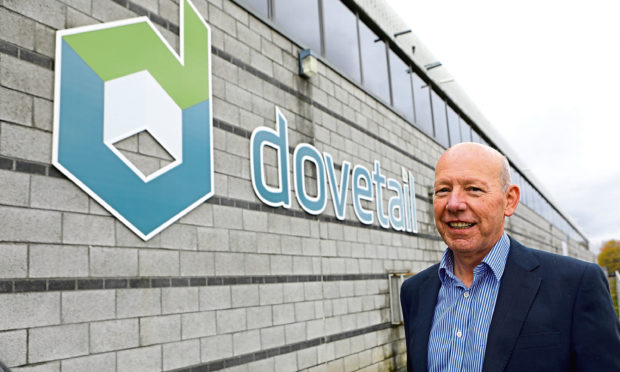 Dundee furniture manufacturer Dovetail Enterprises plans to return to profit next year after a "difficult" trading period.
The Dunsinane Avenue charity – which provides training and employment for people who are blind, visually impaired and disabled – warned its sales had been impacted by Brexit and the General Election.
Newly filed accounts, for the year ending March 31 2019, show sales increased by 2.6% to £3.3m, with a loss of £201,000 compared to a £258,000 loss in 2018.
An improved trading position of £166,000 against 2018 was partially offset by a reduction in grants and donations of £70,000 and a reduction in income from investments of £39,000.
Executive chairman Ken Laing said the organisation, which is backed by Dundee, Angus and Perth and Kinross councils, had benefitted from the expansion of its door manufacturing operation during the financial year.
It had also secured a range of work for Apex Hotels' portfolio.
However, he said sales had slowed in the current financial year through a "triple whammy" of impacts.
He said: "There have been a number of impacts we are feeling the draft from.
"Brexit is definitely one of them. We've also seen some of our fire door programmes and projects have been pushed back a bit.
"I think latterly, the General Election taking place and the delay in public sector budgets towards the tail end of this financial year is definitely having an impact.
"It's been a triple whammy that has slowed down sales this year."
Dovetail manufactures specialist doors, furniture and beds for a range of public buildings including hospitals, schools, universities and other public buildings, including the V&A museum in Dundee, together with many blue chip private sector clients.
Last year a planned merger with English charitable group the Shaw Trust fell through which led to Dovetail raising a funding package via its public sector partners and local charitable trusts, that will help secure its future.
Mr Laing said a plan was in place to raise sales and also increase efficiencies through lean manufacturing.
"We've been getting support over the last six months from Michelin in Dundee who have been helping us as part of their drive towards local employment," he said.
"We've had some of their management team in who have been very helpful in helping us consolidate and drive forward some of the lean manufacturing practices a bit faster than we otherwise would have been able to do.
"Dovetail is indebted to public and private sector partners for all of the support received.
"This will be invaluable in helping the charity to secure its future and increase its impact in providing training and employment opportunities for disabled people in the city and wider city region."
rmclaren@thecourier.co.uk