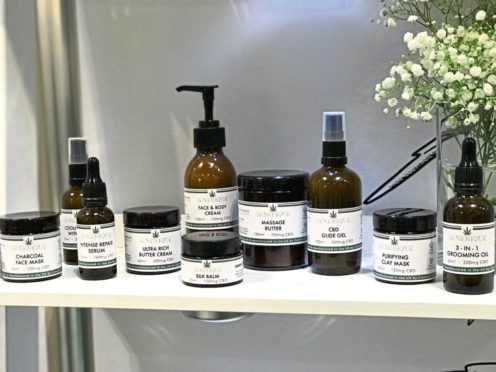 A Fife start-up that manufactures cosmetics infused with cannabis extracts believes its products can compete with some of the world's largest beauty brands.
Rick Messitt's interest in cannabis started when he was growing up and his grandfather started smoking the drug to relieve pain.
After a career in tech, during which he co-founded Dundee digital agency Zudu, Mr Messitt's first cannabis business he was involved with was Holistic Hemp Scotland, founded in 2016, which sourced legal cannabis products like CBD oils for other businesses.
While he was growing frustrated with issues over the quality and reliability of supply he met Craig McKay, a cosmetics veteran.
Together they set up Cannafull to produce a range of products such as balms and creams using non-intoxicating extracts from the plant.
Chief executive Mr Messitt said: "The quality of most cannabis cosmetics on the market just now is really poor.
"The most common approach is to take a bog standard cosmetic, squirt some cannabis oil in it and then put a leaf on the box.
"Our company is about efficacy and helping people.
"When cannabis is 5% of the cosmetic the other 95% needs to be good quality as well and that's why most of our team come from the cosmetics industry."
The Kirkcaldy firm sources its oil from Europe. The plant is grown in a farm in Lithuania, with extraction done at a facility in Poland.
Mr Messitt said although it is widely acknowledged cannabis can have beneficial medical and therapeutic uses, he had to be careful about claims he makes for his products.
"Regulators make it hard as there's not enough data or research for us to make bold claims but we've seen some fantastic results," he added.
"Cannabis is well known for its antioxidant qualities and the carrier oils we use it in like hemp seed oil is fantastic at restoring moisture.
"We are one of only a few people in the UK making, from the ground up, a quality cosmetic.
"I want our products to be a viable alternative to someone who currently uses L'Oreal."
The company initially intends to produce "white label" cosmetics for other companies to rebrand and package under their own name.
However, Cannafull, which now has a team of four, also has plans to produce a range under its own name.
"Being only six months old we have a lot more ambitions – longer term we'd like to do a direct to consumer brand and we are working on that on the side," Mr Messitt said.
"The trend for cannabis cosmetics is only going in one direction and the potential of the marketplace is huge and it's all driven by consumer demand.
"Interestingly some players from the cosmetic world rather than the cannabis world have been approaching us and saying they'd like to introduce cannabis to their product ranges but they don't know how to do it.
"They've got the capability to manufacture but don't know how to develop the product so we also offer services to help with that."
rmclaren@thecourier.co.uk