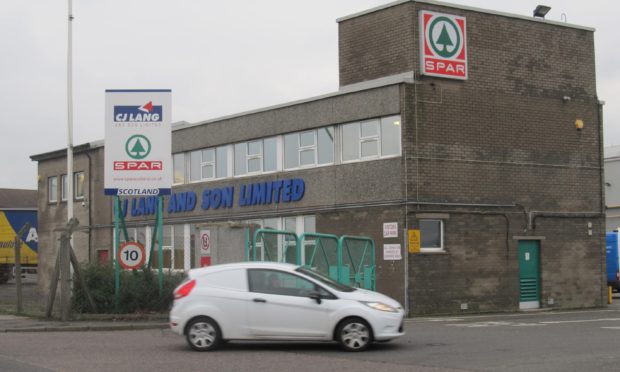 The managing director of SPAR convenience stores supplier CJ Lang & Son of Dundee has warned of a challenging year ahead for the company for reasons including falling cigarette sales and the Living Wage.
The Longtown Road-based firm's financial performance slipped in the year to April 2016, according to accounts lodged at Companies House.
Turnover was down by less than1% at £194.6 million but pre-tax profit was 25% lower at £914,000.
Managing director Scott Malcolm said considering the sector's highly competitive nature it was pleasing to achieve a modest increase in the number of stores supplied thanks to recruiting more retailers into SPAR and existing customers expanding.
"Notwithstanding that, the group experienced a reduction in turnover attributable in the main to market-wide food deflation and declining cigarette sales in addition to which poor summer weather also had an adverse impact."
Operating profit dipped as a result of downward business revaluations and higher depreciation but earnings before interest and tax grew for the second year.
The financial position remained strong with reduction in net debt and bank funding in place until 2020.
Mr Malcolm continued: "The year ahead will be challenging due to increased competition, anticipated further erosion of the cigarette category and being faced with significant cost increase brought about by the National Living Wage."
The group's strategy continued to be focused on developing the SPAR business in Scotland through increasing store numbers and investing in new initiatives to increase footfall, revenues and margins.
He said the group would also pursue opportunities to achieve operational efficiencies and reduce costs where possible.
"In the meantime, results for the 2016/17 financial year are currently ahead of expectations, cautioned by the fact that trading in the remaining period is forecast to be more testing," he added.
CJ Lang employs more than 2000 people, the majority in its SPAR retail store estate.
Figures from the Tobacco Manufacturers' Association show UK cigarette consumption plunging from 102.5 billion in 1990 to 39.7 billion in 2014.
The trend is reflected internationally as greater awareness of the health risks – increasingly seen through bans on smoking in public places and stark warnings on cigarette packets – impact on sales.
The Living Wage, now set at £8.45 an hour in the UK outside London, was brought in by former prime Minister David Cameron to help raise living standards.
It has created unease amongst employers, however with the retail and hospitality sectors concerned at the measure adding millions of pounds to their costs..