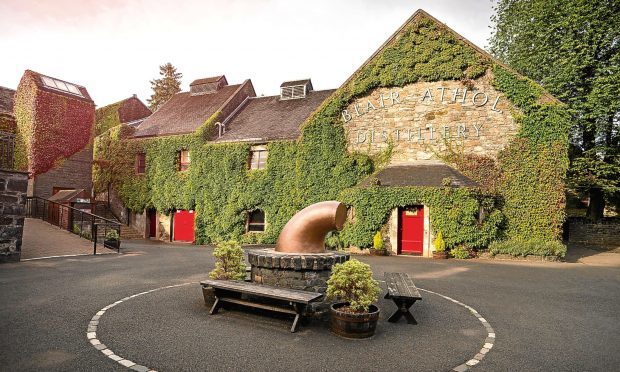 A record number of visitors attended Diageo's whisky distilleries last year underlying the importance of Scotland's national drink to the country's tourism sector.
In 2017, a total of 440,360 people visited the drink giant's 12 distillery centres across Scotland, an increase of 15% on the previous year.
Blair Athol Distillery in Pitlochry, the iconic home of the Bells' Scotch whisky brand, was Diageo's busiest distillery visitor centre drawing in 86,019 people.
The Perthshire distillery recorded a 23% rise in visitors, in part due to the launch of a new whisky tasting bar.
Diageo's head of international supply Ewan Andrew said: "As the country's lead export, Scotch whisky is one of the biggest magnets for tourism and we're continuing to grow visitor numbers from around the world.
"We're also continually working to ensure those visitors have the best experience at our distilleries.
"They always enjoy meeting the makers, then tasting and learning more about our outstanding single malts and blended scotch whiskies."
Over the last five years, the attractions have recorded a 96.3% growth in visitor numbers across the country, fuelled by international visitors to Scotland and the increasing rise of staycations.
The firm's Scottish visitor centres will open their doors for free on February 8, 10 and 11 to mark the second International Scotch Day.
VisitScotland chief executive Malcolm Roughead, who opened the Pitlochry distillery's new bar in July, welcomed the new figures.
He said: "This is an amazing achievement and a testament to the hard work of staff to give visitors the best experience possible.
"We look forward to welcoming even more visitors to our distilleries throughout the year.
"Whisky is one of Scotland's most valuable commodities with people from all over the world coming to our shores to experience an authentic Scottish dram.
"A culinary icon, it remains as important as ever to the tourism industry with one in five visitors making a trip to a whisky distillery during their stay and even more visiting a bar, pub or restaurant to sample our renowned national drink.
"Whisky tourism is a vital part of local tourism for many areas in Scotland, attracting visitors, creating jobs and sustaining communities."
Diageo operates 28 malt whisky distilleries of which 12 have visitor centres, making it the leading provider of whisky tourism facilities in Scotland.
rmclaren@thecourier.co.uk