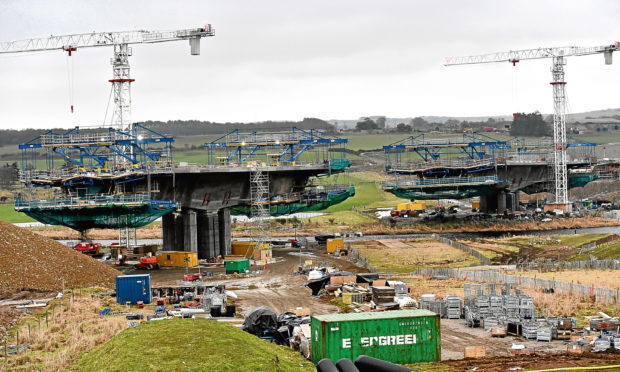 Infrastructure giant Galliford Try has been forced into a £150 million cash raise after being hit by a multi-million pound liability on the Aberdeen Western Peripheral Route (AWPR) contract following Carillion's collapse.
Shares in the Queensferry Crossing contractor plunged by more than 18% in early exchanges after the group revealed plans to strengthen its balance sheet.
It said Carillion's demise had placed additional financial obligations on the group, principally in relation to the AWPR joint venture it shared with the defunct contractor and Balfour Beatty.
"The over-run costs on AWPR, compounded by the compulsory liquidation of Carillion have increased the group's total cash commitement on the project by in excess of £150m," Galliford Try told investors as it simultaneously revealed its half year results.
"The group continues to make good progress in resolving both AWPR, the construction of which is expected to complete during summer 2018, and other legacy contracts.
"The group no longer undertakes fixed price, all-risk major projects of this nature, and has improved its tendering and project selection processes.
"The group has sufficient financial resources to meet its obligations, including the estimated impact of Carillion's liquidation.
"However, this would involve diverting capital away from the Linden Homes and Partnerships and Regenerations businesses, thereby reducing their ability to capitalise on the material growth opportunites these businesses would otherwise be well positioned to exploit."
The business has now registered a £25m exceptional charge for the six months period to December 31.
In May last year it revealed a further £98.3m one-off charge in relation to "legacy contract" liabilities, the bulk of which related to AWPR and its involvement in the Queensferry Crossing build.
Its half year results to Hogmanay show an 11% drop in pre-tax profits for the half year to £56.3m.
However, overall revenues jumped 14% to £1.5 billion.
Looking at the business as a whole, Galliford Try's chief executive Peter Truscott said the company had delivered a "strong financial and operating performance" over its first half and said the firm was on track to deliver full-year growth.
However, he flagged continuing political uncertainty in the UK as an economic risk to the business.
"We continue to maintain strict control over net debt, which is consequently better than our guided level," Mr Truscott said.
"We enter the second half of the year with a solid foundation to build on and strong fundamentals for the housing market.
"While we remain cautious of the impact of the current political uncertainty and the medium-term outlook for the macro economy, we believe our focused strategy, strong order book and disciplined approach will deliver further growth and shareholder value."