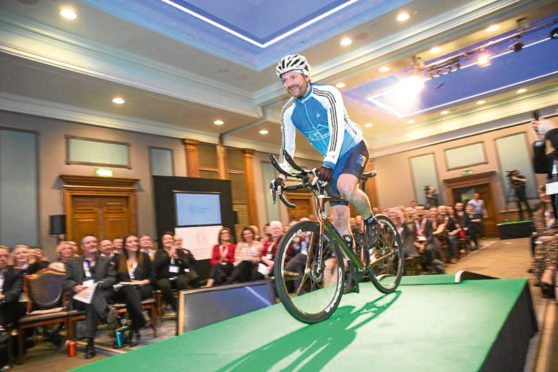 The importance of businesses thinking globally was underlined at Entrepreneurial Scotland's annual conference yesterday.
The event at Gleneagles Hotel saw a host of high level speakers inspiring a sold out audience of Scottish business leaders.
Speakers at the conference, being held for the 22nd year, included world-record breaking Perthshire cyclist Mark Beaumont, Skyscanner chief executive and co-founder Gareth Williams and Cobra Beer founder Lord Bilimoria.
We are live! What an entrance! @chrisvdk #ESConference https://t.co/auNqXICTFX

— Entrepreneurial Scot (@EntrepScot) April 26, 2018
Dundee tech entrepreneur Chris van der Kuyl — who chairs Entrepreneurial Scotland and took to the stage riding Mark Beaumont's bike — encouraged companies to think on a worldwide level from their inception.
He said: "The conference today is all about having a global mindset.
"To me that means having a global head and a Scottish heart.
"What's the point if you can't have an impact on the whole world?
"I don't really care about building a business that's only relevant to my back yard.
"As a tech entrepreneur if I don't think global from day one, the business is dead at birth as far as I'm concerned.
"That goes for all our entrepreneurial ideas, whether they be business, public sector or governmental we have to think with a global mindset.
"It's an attitude of mind that's absolutely vital for every leader here and it's a key ingredient of our vision to make Scotland the most entrepreneurial society in the world."
Mr Beaumont drew parallels between his feat of cycling around the world within 80 days and entrepreneurs setting lofty targets.
He said: "I'm a massive fan of shooting for the stars and putting all your cards on the table.
"Know what's gone before, respect and learn from people who have done it before you, but don't set your targets based on history.
"Have the confidence to say what is success on your terms.
"When I set out to break the world record of 123 days, I didn't aim to beat that by a day.
"I thought I could do it in 75 days, with three days of travelling and two days for contingency.
"If I hadn't committed to trying to do it in 80 days then I know I would have slipped towards the 123 days."
Other speakers at the conference included Paul Forkan, the co-founder of fashion brand Gandys, serial entrepreneur Angus MacDonald and world renowned AI pioneer Dr Vivienne Ming.
The conference, was supported by headline partner Cazenove Capital and The Courier, The Press & Journal and Energy Voice as co-media partners.
Entrepreneurial Scotland is a network and leadership development organisation with 700 members.