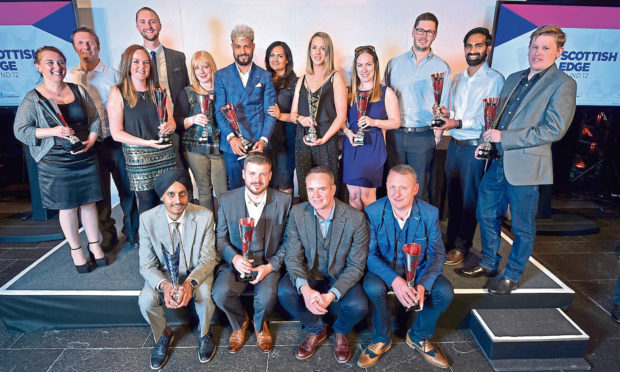 Tayside and Fife start-ups have scooped a combined £165,000 in growth funding after winning big at the Scottish EDGE awards.
City Quay-based Brokers Insights – chaired by serial Scottish entrepreneur Chris van der Kuyl and which uses data analytic techniques to drive efficiencies within the insurance sector – took home £75,000 after a pitch led by co-founder and chief executive Fraser Edmond.
"We are thrilled to receive this recognition from Scottish Edge and everyone involved," Mr Edmond said.
"It has been a busy first six months building our platform, whilst selling the vision to insurers and brokers alike.
"We signed our first major insurer partner, Hiscox, last month before we are even live, and to receive this recognition is further validation that others see the potential that we do in this business.
"The award enables us to accelerate our sales efforts and affords more investment in product development, things that will be key as we move into the next phase of growth."
Dundee-based Just Venue – a website allowing customers to view and book out a range of potential event venues – was also a big winner on the night, scooping £50,000.
The Little Herb Farm – a Fife-based maker of sweet fruit vinegars and chilled dips – won £40,000.
A total of 20 companies pitched at the EDGE final at Stirling's MacRobert Arts Centre, with 11 firms securing part of the £1 million prize fund on offer.
The judges included Scottish billionaire Jim McColl and new Scottish Enterprise chief executive Steve Dunlop.
Scottish EDGE chief executive Evelyn McDonald said: "We welcome the entrepreneurs awarded tonight to our high achieving alumni of 293 previous Scottish EDGE winners who thus far have generated an additional £104.22 million in turnover, secured £82.47 million in additional investment and created 1,381 jobs."
Gordon Merrylees, head of entrepreneurship at RBS, said: "These finalists showed that the calibre of Scottish entrepreneurs continues to flourish and the winners announced tonight are a wonderful endorsement of the exceptional entrepreneurial talent and spirit being cultivated within the Scottish ecosystem."