Staff at Perthshire-based Castle Water were riding the crest of a wave yesterday as their triple triumph at The Courier Business Awards 2018 sunk in.
In just four years, the Blairgowrie-based firm has grown to become one of the UK's largest independent non-domestic water retailers with 350,000 customer accounts.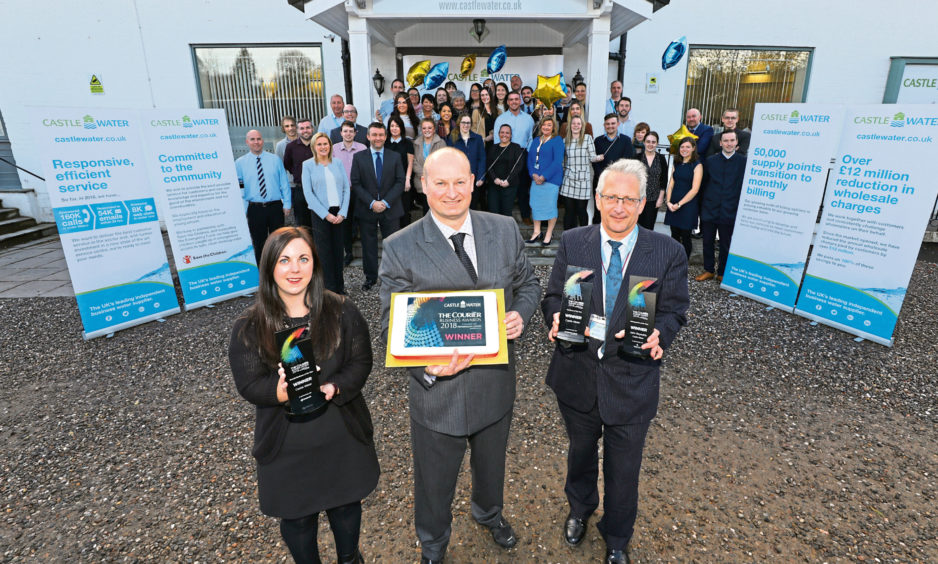 That achievement proved enough to see the firm named as Courier Country's top company of 2018 by the expert judging panel.
Founder and CEO John Reynolds said he was overwhelmed to win a personal award as Entrepreneur of the Year.
Courier Business Awards 2018 — Castle Water is named our business of the year at glittering ceremony in Dundee
But Castle Water's success did not stop there, with the firm scooping the Growth prize before taking the prestigious Business of the Year title. "There's been a huge amount of commitment, hard work and achievement by everyone in the company over the past year and it's important for me that people in the company are recognised for that", a delighted Mr Reynolds said.
"There was a high-calibre list of candidates for the entrepreneur award and that wasn't one I expected to win.
"What was really good was being told the decision was unanimous from all the judges.
"Then we won the growth category as well. I was delighted because that's recognition for the whole company.
"The table was thrilled and people at all levels in the company, who were following the awards closely online, were sending us messages of congratulations.
"Then we were all shocked to win the big award, as we don't have as high a profile as other companies our size.
"The judges had obviously looked carefully at what we'd done and achieved – you could tell through the detail given when the awards were read out."
More than 700 local business leaders attended the black-tie awards ceremony, which was held in association with Henderson Loggie, at Dundee's Apex City Quay hotel on Saturday night.
Hosted by Scots comedian Fred MacAulay and Countdown star Rachel Riley, the night featured a cocktail reception, three-course meal and musical entertainment that lasted long into the night.
Mr Reynolds said the scale of the event took him aback.
"It's a genuinely big event and a genuinely big award because of that," he said.
"A lot of awards events are quite clubby – everyone knows everyone else – but these awards cover quite a wide area and so it's also a really useful networking event.
"We had lots of people coming up to congratulate us, both people we knew and people we didn't know.
"Winning an award like this is useful on many levels.
"It is recognition for everyone working at Castle Water, it helps with recruitment and it helps people to hear about us.
"All the staff are excited, everyone is talking about it. The winners' certificates are already up at the entrance.
"There's a pretty good buzz in the office normally but it's been supercharged."