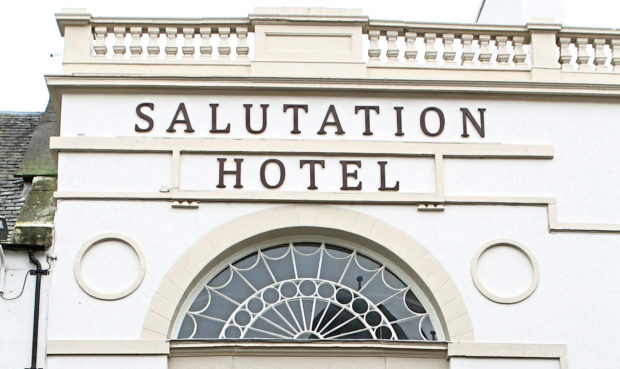 A hotel group which started with the £1 million purchase of the Salutation Hotel in Perth has undergone a management buyout.
Strathmore Hotels was founded in 1991 by Ronnie Rickard and now comprises of a portfolio of seven hotels across Britain.
After Mr Rickard died in 2012, control of the company passed to his wife Barbara.
Their son Chris, who has acted as managing director since his father's death, has now bought out his mother's shares to take control of the group.
His sister, Louise Hamill, is a minority shareholder in the company, acting as the sales and marketing director.
As well as the Salutation Hotel — which is reputedly Scotland's oldest hotel — the group has four other hotels in Scotland and two in England.
These include Ben Nevis Hotel and The Alexandra Hotel in Fort William, the Nethybridge Hotel within Cairngorm's National Park and The Royal Hotel in Oban.
Mr Rickard said: "The Strathmore Group means a lot to me personally and professionally.
"I wanted to keep the group in family ownership and continue the great work that my dad did in establishing and building up the business.
"I think that I have been building on his legacy since 2012 and now, following the management buyout, put my own stamp on the business."
The frontage of the Salutation Hotel, which has hosted everyone from Bonnie Prince Charlie to David Bowie, was given a facelift three years ago as part of refurbishment work on the B-listed building.
The Strathmore Hotel group, which is headquartered in East Kilbride, has a portfolio of assets worth over £30m.
The most recent annual accounts, for the year ending December 31 2017, show it recorded a 7% rise in turnover last year to £16.7m.
Bed occupancy rates rose from 62% to 64% last year as the group recorded a pre-tax profit of £878,000.
Mr Rickard said he planned to add to the firm's portfolio of hotels.
He added: "Hospitality is a highly competitive business and requires continued investment and new ideas to ensure a business grows.
"I am very proud of this being an independent and family-run group of hotels which allows us to offer a unique, personalised service to our clients.
"I am excited by the challenges ahead and want to lead Strathmore Hotels into a bright future and will be seeking to expand our portfolio and grow the group."