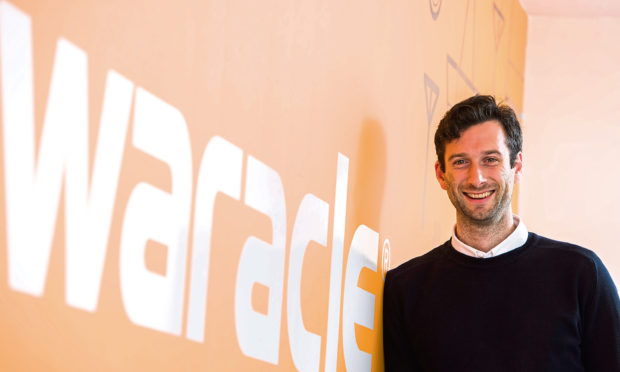 Dundee mobile app developer Waracle has announced the acquisition of augmented reality (AR) firm Mozenix as it continues to invest in emerging technologies.
Mozenix co-founder Michael Romilly was part of the group that established Waracle a decade ago, but left in 2017 to start his new firm with Michael Brown.
Waracle previously invested in Mozenix as a start-up and the six-strong team was already based within Waracle's offices in Bash Street.
"The DNA of Waracle has always been about exploration," said Waracle director and business developer David Romilly.
"When mobile came on the scene, we were one of the first companies to experiment with it.
"We need to keep on exploring, researching and understanding the technologies so that we can help take our clients on a journey.
"The investment in Mozenix is us backing the technology and shows we understand the potential. AR and voice are going to be the next big frontiers for consumers."
Mozenix has successfully completed several AR projects.
One, developed with Aberdeen software company Return to Scene, used a smartphone's camera to recognise oil and gas assets and bring up identification tags and information about them on the screen.
Another project, for Clydesdale Bank, recognised price tags and converted them to another currency, allowing travellers to have a greater understanding of what they are spending abroad.
Waracle opened a London office at the end of last year which Mr Romilly said would lead to more work coming to Dundee.
"There is more competition in London but what's interesting is that we see a lot of very creative agencies and some big consultancies," he said.
"We think we are well-positioned in between.
"We are starting to see some customer wins and it will lead to more work and more staff being based in Dundee."
Waracle employs around 150 staff, with 50 employees based in Dundee.
Its clients include Scottish Power, the NHS and ScotRail.
Waracle CEO Chris Martin added: "The Waracle team put their love of technology at the heart of everything they do.
"Bringing the Mozenix AR expertise into the fold means we can now offer an even more valuable service to our client base."
rmclaren@thecourier.co.uk