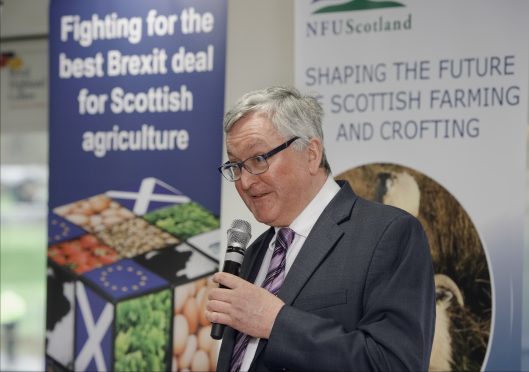 Senior Westminster politicians believe Scotland is prepared to "go to war" over hill farming and sheep subsidies, according to Scotland's Rural Secretary Fergus Ewing.
Mr Ewing told two audiences at the farm business event, Agriscot, that Cabinet Minister Damian Green had been heard to make the remark about the strength of feeling in Scotland.
"Mr Green, the Prime Minister's right-hand man, was heard to say that the Scottish Government wants to go to war over hill farming and sheep subsidies, and it's not true – we're not going to war with England. But we are campaigning hard to get our message across that support is necessary for food production and the environment," he said.
"So clearly we have got the point across, but that's not enough. My objective is to get absolute clarity from (Defra Secretary) Michael Gove, not just about funding up until Brexit and the end of the transition period, whenever that may be, but to get funding guaranteed post-Brexit."
The importance of that funding was underlined with the publication of a new Scotland-specific report by AHDB which explores different post-Brexit trading relationship options, both internationally and within the UK.
The modelling shows that  in a worst case "Fortress UK" scenario for the sheep industry, farm business income would crash back by 210% to minus £12,379, although farms in the top performing 25% would be still remain profitable.
"A hard Brexit would be catastrophic for hill farming and especially the sheep sector where the continental market is so important," said Mr Ewing.
With such major issues ahead for the sheep farming industry,  he went on to insist that he would oppose any call for the reintroduction of the lynx.
"There is no way that I as farming minister could ever support the reintroduction of lynx to Scotland.
"That is clear cut," he said.
" Farmers have enough problems at the moment without adding to them and if we want to introduce more of a species into the countryside, my vote would be to reintroduce more of the human species into rural Scotland."
nnicolson@thecourier.co.uk