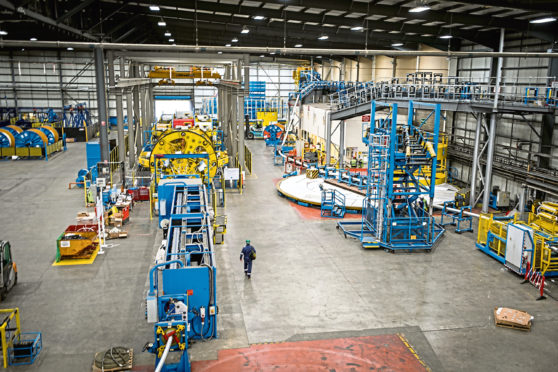 Skilled manufacturing jobs are at risk at a major Fife employer which has entered redundancy talks with hundreds staff.
Oceaneering, which has a workforce of more than 220 at the Port of Rosyth, confirmed yesterday it has started consultations with more than 300 staff "throughout the UK".
The oilfield services company, which specialises in manufacturing subsea cables, has operated in Fife for 20 years.
It is understood that 340 jobs have been placed at risk UK-wide as the firm looks to make around 20 staff redundant in Rosyth and make almost 50 cuts in Aberdeen.
Bob McGregor, regional officer for Unite the Union, said: "The redundancy process started last week and affects the service and technical department that goes out to different sites.
"There will unfortunately be redundancies in Fife, probably around 15 to 20 jobs.
"Last year Oceaneering tried to adjust the terms and conditions of around 40 workers in Aberdeen and it looks like they are trying to strong arm them into accepting what they want to do. Those jobs are at risk in Aberdeen as well as some office staff.
"We will be supporting our members through this process."
Last month the Houston-headquartered firm posted a huge jump in its pre-tax losses at $397.8m (£313.7m), more than 13 times the $27.9m (£22m) deficit in the same period last year.
The Covid-19 pandemic, and resulting oil downturn, led to heavy impairments and write-downs in the value of the company's assets.
Chief executive Roderick Larson warned of headcount reductions as it adjusts "staffing levels and geographic footprint".
He said: "Many of the markets we serve are being profoundly affected by the effects of and the associated responses to Covid-19, as well as the significant reductions in our oil and gas customer spending as a result of the lower crude oil price environment."
Additional cost cutting savings would be made in the second and third quarters, Mr Larson added at the time.
The firm opened a new regaional headquarters in Dyce in March.
Last August the engineering firm also announced construction of a new workshop and yard at the D2 Business Park in Aberdeen, due for completion in mid-2020.
An Oceaneering spokeswoman said: "We can confirm around 300 UK employees are in redundancy consultations. The roles are located throughout our UK offices."
It comes amid thousands of job cuts across the industry, with Oil and Gas UK (OGUK) warning of up to 30,000 roles being lost by next October.
OGUK is working with the UK government towards a sector deal to help support the industry going forward.
Mr McGregor added: "It's obviously a difficult time for the sector. The offshore sector has not just been hit by Covid-19 but also the low oil price.
"All the oil companies and the companies that support them are looking to cut costs."
rmclaren@thecourier.co.uk