A Dundee building firm has sacked a squad of builders working on two Perthshire sites for alleged gross misconduct.
David Maxwell, managing director of George Martin Builders, confirmed he had dismissed 16 tradesmen working across two sites at Aberfeldy, one of which is a social housing complex for Hillcrest Housing Association.
Mr Maxwell refused to divulge the reasons for his actions, although one source told The Courier the situation had escalated when workers walked off site early this week after being left "soaked to the skin" in a heavy downpour with no place to shelter or change.
The worker said he was consulting his solicitor following his dismissal on Friday morning and other contractors were also intending to take legal advice and seek support through Citizens Advice Bureau.
Mr Maxwell said he had lost sleep over the situation, which he said was the first of its kind in his 20-year tenure at Fairfield Road-based George Martin Builders.
He stressed the business was continuing to trade as normal and said he would seek to replace the lost manpower.
"I have been here nearly 20 years and this is the first time I have had to do this," Mr Maxwell said.
"I can assure you it was not done without a lot of consultation and a lot of soul-searching."
Mr Maxwell said the dismissed contractors had been paid  in full, a fact confirmed by The Courier's source, who said wages had been made up to a week today.
He said workers had left the site because of the prevailing weather conditions.
"It is not gross misconduct," the tradesman said.
"On Monday this week in the pouring rain we came to a decision at half past three, quarter to four, to leave early.
"Instead of putting eight hours down (on the timesheet) I put seven-and-a-half down and they are saying we have defrauded the company."
Mr Maxwell said two further staff members working at Aberfeldy were being retained and he stressed all industry guidelines had been adhered to in the dismissal process.
He added the Hillcrest Housing Association contract was complete and due for handover following the festive period and George Martin Builders will continue to trade as normal.
"I will be re-employing the same amount of people that I have had to dismiss," Mr Maxwell added.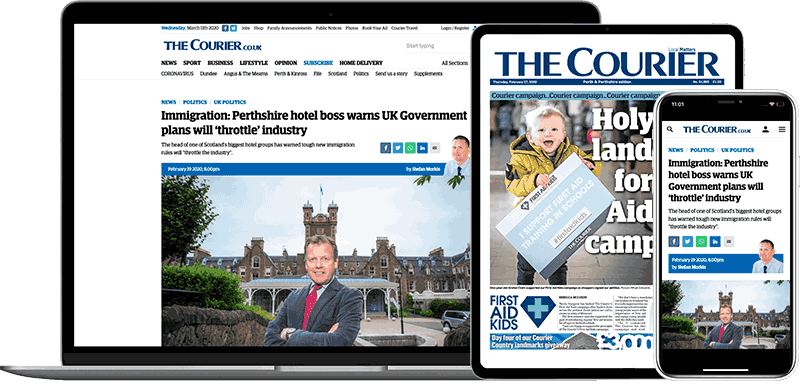 Help support quality local journalism … become a digital subscriber to The Courier
For as little as £5.99 a month you can access all of our content, including Premium articles.
Subscribe