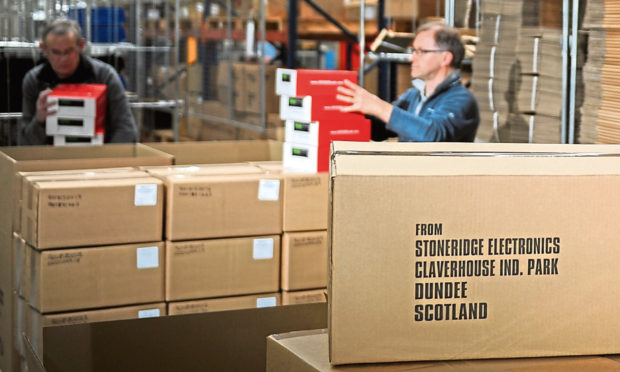 Tachograph firm Stoneridge Electronics, which cut its Dundee workforce as part of a company restructure last year, said it was now looking to invest in its design and sales capabilities in the city.
Stoneridge announced a "realignment" of its aftermarket business in Dundee in October last year.
Production of tachograph and tachograph accessories ceased from
the American-headquartered company's site at Claverhouse Industrial Estate. The internal sales department was replaced by a sales distribution model.
An unspecified number of staff lost their jobs at the firm, which previously employed around 60 before the changes.
The company, which can trace its roots in Dundee back 70 years, has now restated its commitment to the city where it continues to have design and development and sales and support teams.
Brian Robertson, head of product development and Dundee site lead said: "We had to make some difficult decisions at the end of last year in order to reorganise our business and better position it for moving forward,".
"We are now feeling the benefits of these changes and are looking to take advantage of Dundee's skilled workforce and invest in best-in-class engineers and salespeople to support the exciting changes that will come with next month's new legislation for smart tachographs."
An 8-K filing with the United States Securities and Exchange Commission – used to notify investors in US-listed companies of important events – in November stated the restructure will result in the production being phased out in Dundee and "certain employee terminations".
The document revealed Stoneridge estimated that between $2.6 million and $3.2m will be spent on the restructure, referred to internally as the Tachograph Realignment.
The investors' document stated: "The estimated costs for the Tachograph Realignment include employee severance and termination costs, contract terminations costs, excess and obsolete inventory write-offs, the non-cash write-off of intangible assets, professional fees and the non-cash write-off of impaired fixed assets.
"The estimated total cost of the Tachograph Realignment is between $2.6 and $3.2 million and will be incurred through 2020."
The company which is now Stoneridge Electronics Ltd has existed in Dundee since 1948, initially under the name of Veeder – Root, and then TVI Europe Ltd.
Stoneridge is listed on the New York Stock Exchange and valued at more than $750m.
rmclaren@thecourier.co.uk