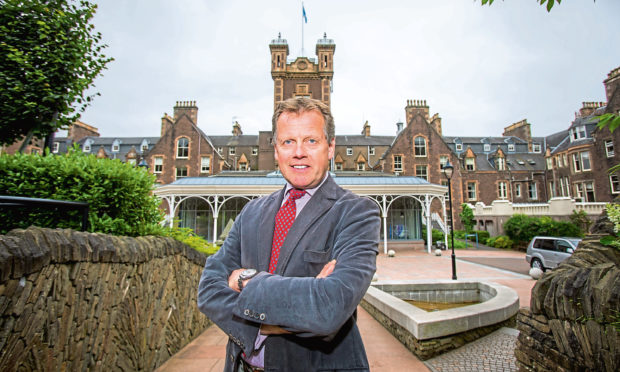 Crieff Hydro has revealed an increase in profits but warned of the impact Brexit could have on its labour supply.
After celebrating its 150th birthday last year, newly filed accounts for the hotel group show a rise in turnover and profitability.
Sales increased from £29.8 million in 2018 to £31.2m for the year ending February 28. Pre-tax profits increased by more than 20% to £1.2m, compared to £981,000 in 2018.
Despite the growth, the company's directors continue to report caution about future market conditions linked to Brexit uncertainties.
The board is concerned about how Brexit will affect availability of labour as well as commodity costs and general confidence in the marketplace.
Chief executive Stephen Leckie said that despite the uncertainty the firm had chosen to continue to invest heavily in its estate.
He said: "We've been able to continue to grow the business despite tough market conditions.
"This has been down to the early and positive decisions we've made to keep reinvesting and look after our team and our customers.
"All our hotels have continued to grow but who knows what's around the corner.
"With this in mind and a good year behind us we've decided to up our investment again across our family to be certain that we're ahead of the curve."
Investments include a new gin school and distillery in Peebles with 26 micro-stills. By Easter next year the group will have a new large-scale adventure park open at Crieff Hydro alongside a new fitness studios and an escape room.
"These are bold moves whilst the storm clouds keep gathering but we're convinced this puts us in a better position to ride through any storm and be stronger on the other side," Mr Leckie added.
"Our figures may well take a dip next year with so much work going on against the backdrop of a nervy economic picture but we believe what we're doing is right for the long term."
The Crieff Hydro group owns six hotels – Crieff Hydro, Murraypark Hotel, Peebles Hydro, The Park in Peebles, the Ballachulist Hotel and the Isles of Glencoe Hotel and Leisure Centre.
It also has a management company, which has the newly rebuilt and iconic Kingshouse Hotel in Glencoe under its wing.
Whilst performance rose across the board there were noticeable strides made in Peebles Hydro, with profits more than doubling in the company's fifth year of ownership.
Alongside running the Crieff Hydro group, Leckie is chair of the Scottish Tourism Alliance – a post he has held for nine years.
rmclaren@thecourier.co.uk