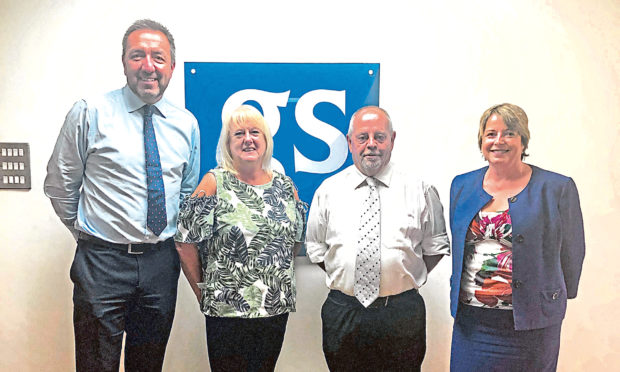 Perth-headquartered insurance firm GS Group has announced it is to acquire Alyth-based firm I & D Insurance Services at the start of next month.
I & D Insurance owners Iain and Dawn Butchart established the Airlie Road firm 25 years ago and sought a local company to take over the business.
George Stubbs, the managing director of GS Group, said the firm would be a "good fit".
He said: "As the second largest independent operator in Scotland, over the years we have tended to grow organically.
"This may be an exception to the rule but we see it as a good fit.
"I & D Insurance is a long-standing local business with a strong emphasis on personal service."
GS Group, which was founded in 1991, now employs more than 60 members of staff at offices in Perth, Dundee, Aberdeen Falkirk and Glasgow.
With a corporate development strategy which includes attracting and developing young talent, many of the staff have made a long-term commitment to the company.
"Iain and Dawn wanted to find a local home for a local business because loyalty and the personal touch was important to them," explained managing director George Stubbs.
"There will be a dedicated team here to look after their clients in Alyth and beyond."
Mr Stubbs said owner operator SME businesses had to be "resourceful and nimble," particularly given the uncertainty created by Brexit and a possible second independence referendum.
"Whether we have a hard or soft Brexit, business owners will adapt as required to continue to operate successfully. They are nothing if not resilient," he said.
"We are, however, definitely seeing a slowdown and a lack of investment – and the continued uncertainty is a bad thing for business owners.
"Whatever happens both from Brexit and further reaching issues regarding Scottish independence need resolved and put to bed once and for all.
"Whatever the future holds, I remain confident that businesses in Scotland will flourish post-Brexit, as most of the uncertainty will be gone and hopefully investment will return."
The Butcharts had a background in insurance but took a leap in the dark when they set-up I & D Insurance.
"I suppose it was a huge risk at the time," said Mr Butchart.
"We had no clients when we started but it worked out well and the business developed very quickly, with the emphasis on private car, household and general insurance.
"As we looked towards retirement we wanted to make sure someone of a similar mindset to us took over."
rmclaren@thecourier.co.uk