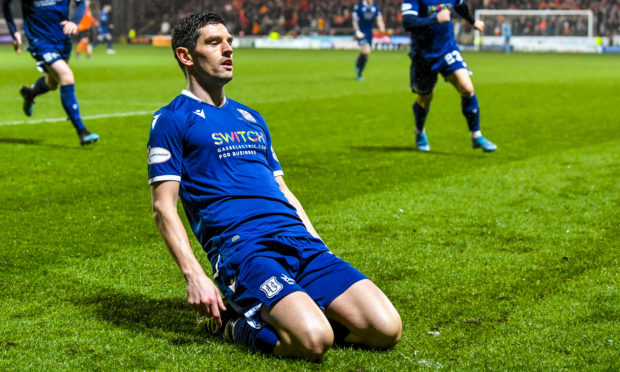 The goal that Graham Dorrans scored in the derby was him at his best.
In fact, his performance as a whole at Tannadice was him at his best.
What you usually see with players who have got to a very high level in the game is that whatever the circumstances, they never hide and they are always willing to take the ball.
That has been the case with Dorrans from day one.
From a personal point of view, having watched him from the stand and against our Arbroath team, I would like him further up the pitch.
I'm not telling James McPake how to do his job because he works with him every day and will have his ideas on how to get the best out of him.
But the quality of his passing and shooting makes him THE dangerman when you are preparing a side to play against Dundee.
It certainly was when we were getting reading to face them.
Every manager in the league will put a player on him if they can.
It will work out better for some teams than others but if he is taking attention away from team-mates that should open up space elsewhere.
You'd like to think for Dundee that his influence will be greater in the second half of the season.
Remember, he'd hardly played any football for a long time when he arrived at Dens.
MK Dons are interested in him but I still think that Dundee is the best place for him.
You often find that if a player has been with Rangers or Celtic and hasn't had much game-time, his next move is about playing and getting enjoyment from playing.
If Dorrans goes down south again he'll be taking a risk that he might not be a regular again.
He's playing for a manager who knows him as well as anybody, in a team who goes through him as much as they can. That's a lot to give up.
For me he should give it a full season with Dundee and then think about what he does next in the summer.
The club and player are still good for each other.
* There's no getting away from the fact that a 20-point gap to Dundee United is embarrassing for Dundee.
United are the best team in the league but not by that distance.
Dundee have a fight on their hands to stay in the play-off places and they will have to go past their best run of three wins in a row back at the end of October, start of November to do it.
They really do need to find some consistency.
* It was a big disappointment losing to Morton at the weekend.
It's not like Arbroath to start sending the ball long but that's what we did in the second half.
The boys have got a great attitude, though, and I'm sure you'll see a reaction for another huge game against Alloa on Saturday.