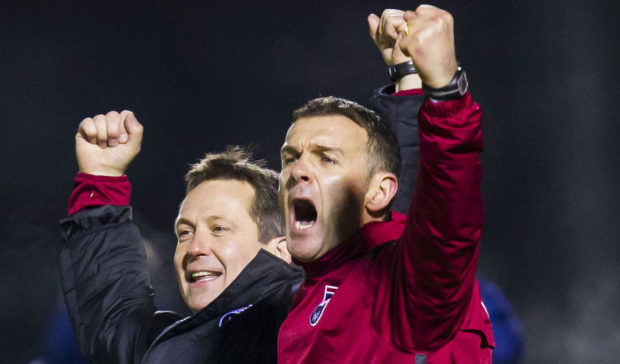 Dundee fans frightened their American owners this week with their naked hostility to the possible appointment of Billy Dodds as assistant to new manager Jim McIntyre.
The pair come as an item, but it's presently on hold, and may be dead in the water, as Dens managing director John Nelms calculates the risk of rebellion from the ranks.
Dodds, a playing legend at Dens, has been fingered by fans as a man who, in refusing to accept the terms of the CVA in Dundee's second administration, almost put the club into liquidation.
Dodds gave up a lucrative contract at BBC and dropped a substantial sum of money to come to Dens, where he was sold a pup in terms of the finances at the club. Having been offered certain terms, these were then reneged on with the club unable to meet its obligations to him and others.
His anger on refusing to accept the 6p in the pound on offer back then was I suspect, more aimed at the folk who had been in charge, and who had hung him out to dry with their shoddy running of the business, rather than at destroying the club.
---
>> Keep up to date with the latest news with The Courier newsletter
---
Nevertheless, football is about emotion, not logic and objectivity, and he is seen by some supporters as having endangered the very existence of the club.
Now those fans who are protesting that their club was put in mortal danger, are effectively tying the hands of the owners in appointing what they feel is the best pairing to ensure a bright new future for Dundee FC.
The relationship between a football manager and his assistant is almost sacred. They bring different yet complimentary talents to the party. They have a bond of trust, and respect, and belief in each other, which cannot simply be replicated by parachuting another name into the position. Think Brian Clough and Peter Taylor.
The situation is an own goal for John Nelms who has either been badly advised or not advised at all on the historical anger and potential ramifications of the Dodds situation.
The appointment could have been eased into the public domain by early hints that Dodds was a candidate, and then could have been quickly dampened if it appeared that real rebellion was likely.
Now though it has become a firestorm with some Dundee fans firing in angry e-mails, bombarding social media sites, and threatening to boycott matches if the appointment goes ahead.
There is danger all round here.
Dundee FC is no cash cow for its owners, and as United fans discovered in trying to get rid of their recent chairman, the city isn't awash with folk prepared to throw money at running a football club.
Dundee fans owned the club for a short spell and couldn't wait to sell it to the Americans once the harsh realities of running it hit home.
With power comes responsibility. Who makes the big decisions: John Nelms or is it to be by fans' diktat?
The appointment of a new manager at Dens should have been cause for peaceful optimism. Instead it's become a battleground.
Casualties may follow.