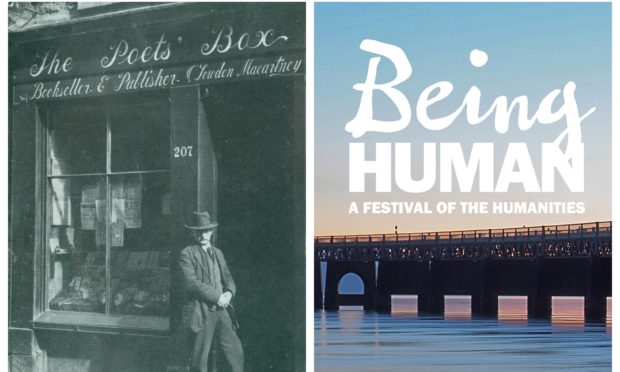 A meeting place for Dundee's wordsmiths of yesteryear is to be the inspiration for a new pop-up shop opening this month.
The temporary unit at the Wellgate Centre will take on the look and feel of the Poet's Box, where creatives performed and printed their work from the 1870s until 1946.
It will be the regional headquarters of the UK-wide Being Human festival, a week-long celebration of the humanities taking place from November 14 to 23.
The original Poet's Box was located in various shops in the city's Overgate area.
With a hand-operated printing press in the back room and stacks of poetry books and song sheets in the window, it was the first point of call for aspiring poets looking to publish their work.
On Saturdays, the shop would be crowded with singers and performers. It quickly became a central point for writers and performers to meet and share their work.
Local historian Dr Erin Farley's research into Victorian Dundee's working-class literary and performative culture will shape, and authenticate, many of the festival activities.
People will be able to play around with a hand-operated letterpress, create 'found poems' from newspapers and magazines, try their hand at playwriting and explore Dundee's contemporary zine-making scene.
Dr Farley, the library and information officer for local history at Dundee Central Library, said: "There's always been a strong tradition of DIY creativity in Dundee.
"We want to celebrate this history and recreate the atmosphere of the Poet's Box by having somewhere in the centre of the city for people to come and discover new work and have a go at creating something themselves."
The festival programme is built around the theme of 'The Aquatic City'.
Events will take place at Dundee Science Centre, Broughty Ferry beach, Dundee Contemporary Arts, Dundee Comics Creative Space, Steps Theatre, and the university itself.
The Wellgate pop-up will celebrate the city's aquatic heritage through hands-on workshops, dramatic performances, film, visual art, and more, with the inspiration for many of these events being an imaginary civilisation who emerge from the River Tay to deliver their verdict on our species.
Dr Daniel Cook, Being Human lead for Dundee and a senior lecturer in English at the University said: "Any large body of water doubles up as an imaginative space full of hidden terrors and wonders.
"The River Tay has inspired notable writers and artists but also has an ignoble history of bridge disasters, whaling, pirating, and shipwrecks.
"For this year's Being Human we imagine that the biggest surprise has yet to reach the surface – a Scottish Atlantis, an ancient civilisation that has thrived beneath the water this whole time.
"What can we learn from these mysterious people? What lurks beneath?"