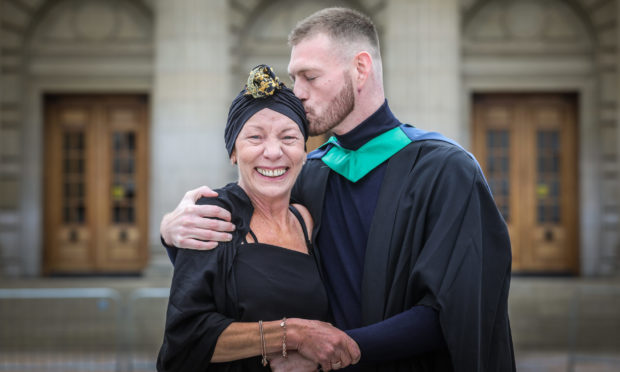 A doting son has said he does not know how he is "going to live" after losing his mum to complications linked to her treatment for cancer.
Sam Latronico, who lives in Perth, said his mum Matilda had died in hospital in Edinburgh on February 29 after experiencing an unexpected side effect while undergoing a trial cancer procedure.
The 27-year-old male model, who lived with his mum and was her primary carer through her illness, said: "She had the most infectious smile.
"That's the one thing that everybody said whether they met her once or spoke to her regularly
"She was that cool mum. I never wanted to do anything that was troublesome, because I was always able to go to my mum and ask her.
"She has always just been amazing, he said.
Matilda's funeral, which is open to the public, will be held on March 10 at 10.30am at Perth Crematorium
The popular hairdresser died aged 56 after campaigning to raise money and awareness around ovarian cancer.
She watched Sam graduate from Abertay University with a degree in ethical hacking last summer and his 31-year-old brother Carlo marry on his recent wedding day.
Sam said the disease had spread to her mum's brain, and after her symptoms reappeared earlier this year, he asked for her to see a new oncologist.
She agreed to a trial form of chemotherapy that ultimately led to her death from liver failure.
Sam said the family initially thought the treatment had gone well.
"We had all the talks before, and we knew the risks and side effects, but that wasn't a risk that was ever on the cards with the medical profession," he said.
"The doctors said they had never seen it before. It just baffled everybody."
He was with her in hospital after they began to realise the new treatment had not gone as planned.
"Three senior doctors said you have 24 hours left and nobody saw that coming," he said.
"I am really numb right now. I haven't cried too much. I am organising the funeral and there is a lot to do."
Sam recorded an online video along with his mum in July featuring the pair shaving their heads.
His mum took great strength from the campaigning in her last 18 months, he said.
"She taught us to be gentlemen and how to treat people with kindness. Always live with kindness and always live with a smile, because that is what my mum was in life," he said.
The family have set up a Just Giving page at www.justgiving.com/fundraising/matildas-journey to raise money for research into ovarian cancer.
A spokesman for NHS Lothian said they did not comment on individual cases.