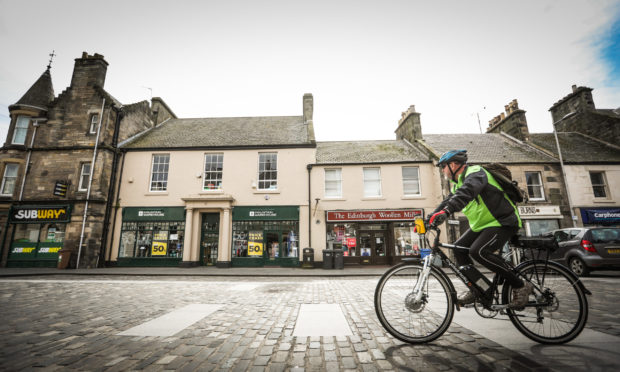 St Andrews University is making it easier for students to go home as part of a package of measures to end some of the "turbulence and uncertainty" brought by the Covid-19 pandemic.
The university has ended the requirement for students to give 28 days' notice if they want to cancel their accommodation contracts.
Around 25 students have already asked to leave.
Learners will also have 10 weeks to withdraw from studies completely without being liable for course fees.
The deadline of December 1 has been extended by six weeks after students in Scotland were told they could return home permanently if they were struggling with life on campus due to coronavirus.
In addition, the university and students' association have launched a £500,000 "Can Do" initiative to support students to socialise safely.
A large marquee will be erected on campus in central St Andrews next week, with bookable space for societies and groups to provide Covid-safe activities.
It will he heated, ventilated and free to use.
The action follows new Scottish Government restrictions on household gatherings introduced last week, with students also banned from pubs and restaurants over the weekend.
St Andrews University has recorded 25 new cases of Covid-19 since the start of September, including four since Saturday.
In an email to students, university principal Professor Sally Mapstone said the vast majority of people had behaved in an exemplary way.
She added: "You are not to blame for the current crisis.
"Our students are an asset to the university, this country and society more broadly and I know that it is asking an awful lot of you to forego the rights of passage and traditional experiences of university life, even for a short while, for the good of the wider public."
She said she hoped the weekend's restrictions would not have to be repeated.
"It is my hope that the Can Do programme, devised with a great deal of effort and support from your students' association, will signal an end to some of the turbulence and uncertainty which the pandemic has brought to the start of semester and provide an outlet for your natural inventiveness, a quality for which St Andrews students are renowned," she said.
The university is providing online learning and is also phasing in in-person teaching over the next few weeks.
Around 1,000 students have not arrived in St Andrews and will continue to learn remotely.