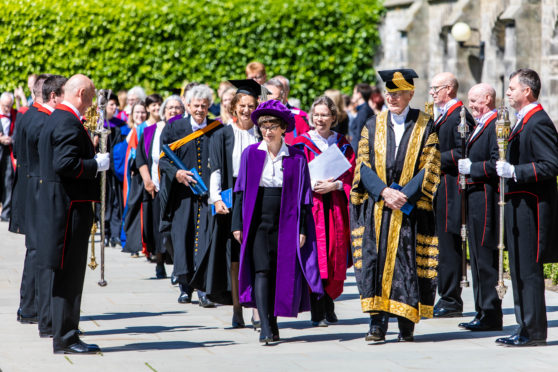 St Andrews University and union leaders are on a collision course over the institution's handling of the Covid-19 pandemic.
Green MSP Mark Ruskell has warned the university's management to start taking its staff concerns seriously if a crisis is to be avoided on campus after the St Andrews branch of the University and College Union (UCU) lodged a "failure to agree" notice with the university, indicating a failure in the formal consultation process.
The UCU, which represents academic and related staff at St Andrews, has previously outlined concerns about risk assessments and staff workloads and has repeatedly insisted staff should not be "coerced" into in-person teaching with the default position of working from home.
EXCLUSIVE: 'We are not disposable' – Union's revolt over St Andrews University Covid-19 return plans
St Andrews University has defended its approach and said it was "deeply saddened" by the position taken by the UCU.
Calling on university chiefs to "change course", Mr Ruskell pointed to education secretary John Swinney's comments this week that "high quality" dialogue between management and staff is fundamental to navigating the current situation.
"Unions have been warning St Andrews' management for weeks now that their plans were simply not good enough but it's clear their concerns have been ignored," he said.
"The formal notice of a 'failure to agree' is ultimately a failure of the university management's duty of care to both its staff and students.
"In August the First Minister told me staff should not be put under pressure to contravene Government guidelines, but that's exactly what's happened at St Andrews."
A St Andrews University spokesperson said: "While we understand that everyone feels anxious in these difficult times, the UCU position completely misrepresents the situation at the University of St Andrews.
"From longstanding and frequent discussions involving all the campus trades unions, UCU and Mr Ruskell are very well aware that we are cautiously phasing in a modest level of safe, risk-assessed, in-person teaching to complement our on-line offerings, while keeping the entire operation constantly under review.
"This approach is important for students' wellbeing and social inclusion as well as their education, and is in lockstep with Scottish Government policy."
The university added a clear majority of students want in-person teaching, and classes run at St Andrews already this term have had a hugely positive response from staff and students.
The spokesperson added: "We are deeply saddened that the formal UCU stance of resisting in-person teaching appears not to prioritise those values of care and inclusion.
"It also contrasts starkly with the constructive professionalism of the other campus trades unions, Unite and Unison, who have formally distanced themselves from UCU's stance.
"Fortunately, the great majority of our colleagues across the board are responding magnificently to the challenges of research, teaching and running the university in the present circumstances, with the interests of students and the safety of our community to the fore."