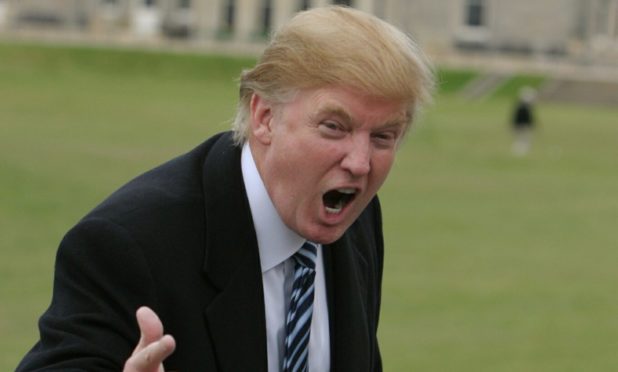 Ahead of the 2020 US presidential election, Michael Alexander reflects on some Courier Country- and wider Scottish – links to the White House.
From the establishment of the first documented Scottish settlement of Nova Scotia in 1629, to the many place names in the modern USA named after 'Old World' villages and towns Scottish settlers left behind, the historical and cultural links between Scotland and America are well documented with up to 8.3% (25 million) of today's US population claiming Scottish descent.
With all eyes on the 2020 US presidential election to see if Donald Trump can defeat Joe Biden to win a second term in the White House, however, it's an opportune time to reflect on some of the historic – and modern day – connections between Scotland and the Oval Office.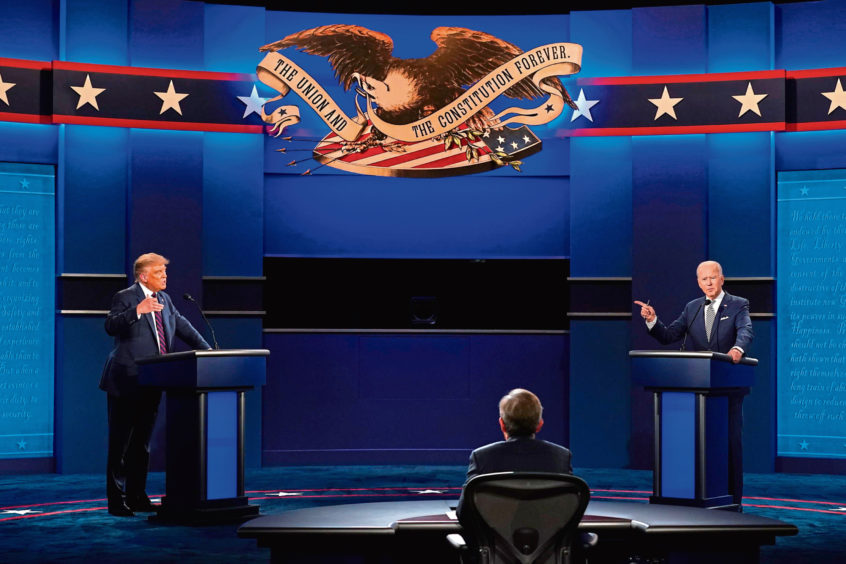 Of the 45 Presidents of the United States, 34 have Scottish ancestry including Washington, Roosevelt, Clinton – and of course Trump whose late mother Mary Anne MacLeod was from the Isle of Lewis.
Other famous examples include the third president of the United States Thomas Jefferson (1743-1826) whose Scottish ancestry came from his mother Jane Randolph. Jefferson is considered to be the primary author of the US Declaration of Independence in 1776 which has been compared with Scotland's Declaration of Arbroath, written in 1320.
North Carolina-born 11th president James Knox Polk (1795-1849) was descended from Scottish protestant preacher John Knox on his mother's side.
The 25th president of the United States William McKinley (1843-1901) – the last to have served in the American Civil War – could trace his lineage back to Macduff, Thane of Fife. During his presidency, he led the nation to victory in the Spanish-American War before being assassinated by Leon Czolgosz in 1901.
Another notable president of Scots descent was Woodrow (Thomas) Wilson (1856-1924) whose Scottish heritage manifested itself in his democratic progressive New Freedom programme which formed the platform of his successful 1912 presidential campaign.
In recent decades, however, it's been trips to Scotland by American presidents that have regularly made the headlines with the common theme being their love of golf.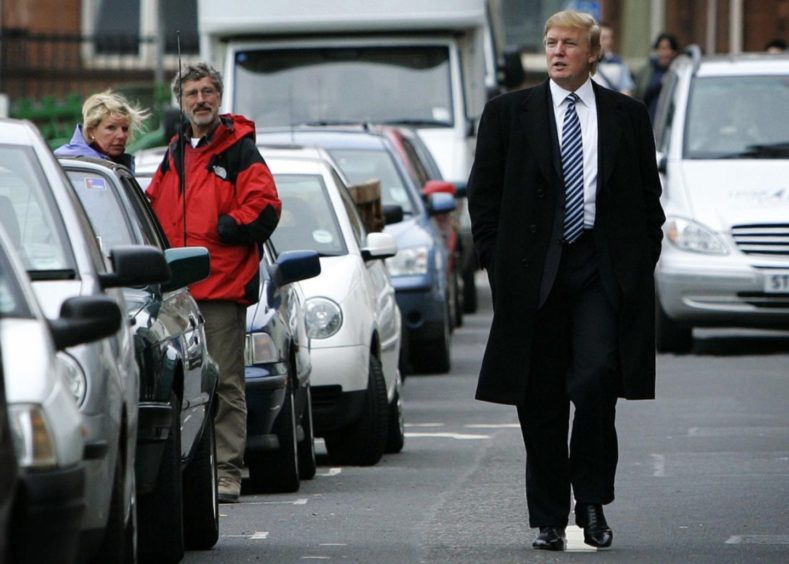 The most obvious example is Donald Trump, who owns at least 15 golf courses worldwide, including three in Scotland with a fourth on the way.
In 2006, when he was but a humble US billionaire famous for his role on America's The Apprentice, he drew attention on a trip to St Andrews, posing for the cameras at the Old Course.
That same year he bought the land where Trump International Scotland now resides on the Menie Estate, Aberdeenshire.
Trump International Golf Links opened in 2012 following considerable environmental planning controversy.
He made headlines at the time when he voiced his opposition to proposals to erect 11 wind turbines off the Aberdeenshire coast, near his golf resort, before turning his attention to 'saving' the whole of Scotland against the energy devices that he called "ugly monstrosities".
He reinforced his dedication to the cause in March 2012 when he sent his executive vice-president and legal counsel George Sorial to a public meeting in St Andrews, organised by Cameron Community Council to discuss the growing number of windfarm applications across Fife.
His shenanigans were famously immortalised in the film You've Been Trumped by Angus film director Anthony W. J. Baxter.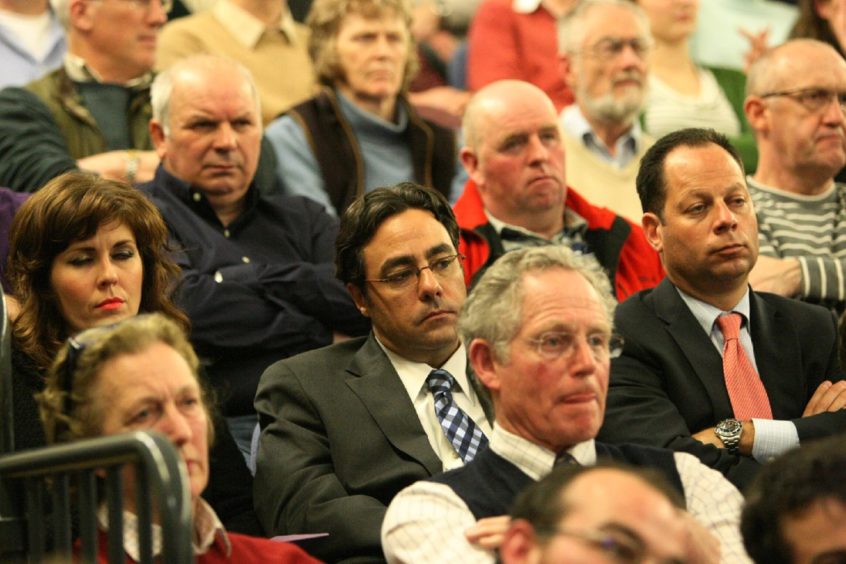 But Trump's love affair with Scottish golf remained undimmed, with the billionaire buying Turnberry, now called Trump Turnberry, in 2014, which features two 18-hole courses, the Ailsa Course and the Kintyre Course.
It was also announced two weeks ago that Aberdeenshire Council has granted planning permission for a second 18-hole Aberdeenshire course – to be named MacLeod after Trump's mother – despite campaigning from environmental activists and despite reports his current Menie course is sustaining 'ongoing financial losses' and claims by objectors it 'is not of benefit to this area'.
As US president, he has taken a step back from his businesses, handing the reigns to his family.
He remains a regular visitor to his properties visiting Turnberry along with his son Eric and wife Melania in 2018.
But Donald Trump is not the only US president to have experienced a rough time on the hallowed golf links of Scotland.
Dwight David "Ike" Eisenhower was still a US general when he was pictured playing golf in military uniform in St Andrews in 1946.
The man who served as 34th president of the United States from 1953 to 1961, also played golf at Turnberry in 1959 during a weekend stay at Culzean Castle, Ayrshire, and after talks in Paris with General De Gaulle.
In July 1995, former US president George H.W. Bush (the 41st president from 1989 to 1993) arrived in St Andrews for a three- day visit coinciding with the 1995 Open Championship.
Accompanied by his wife Barbara, the honorary member of the R&A whose father and grandfather were past presidents of the United States Golf Association, flew in from Warsaw to the then RAF base at Leuchars, before making the five-mile trip to St Andrews by road.
A few days later he played golf at Carnoustie and also took in some of the final stages of the Open having also visited St Andrews nine months earlier to take part in the final day's play of the R & A's Autumn Medal meeting over the Old Course.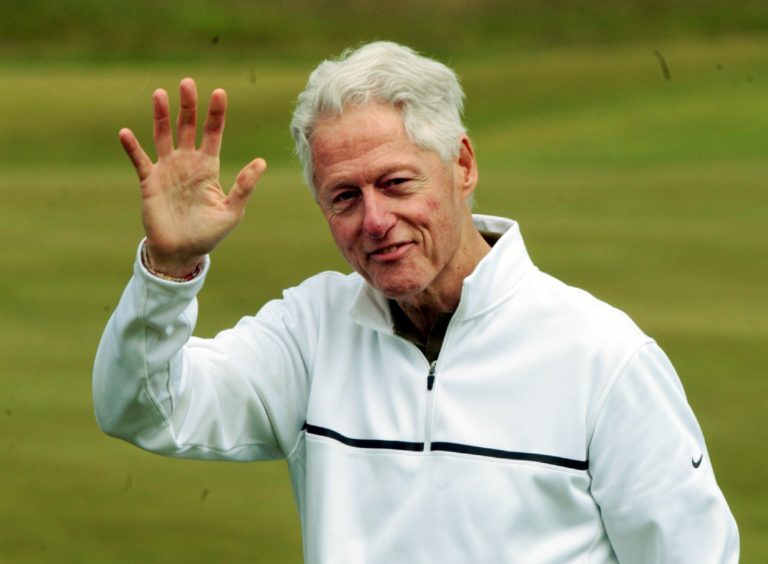 Bush's successor Bill Clinton, who served as the 42nd president of the United States from 1993 to 2001, also made several trips to St Andrews after leaving the Oval Office.
In May 2001, after playing at Loch Lomond, Clinton fulfilled a long-held dream when he played a round of golf over the Old Course – and used a 50-year-old course guide booklet of the links to help him overcome some of its hazards.
He flew into the Home of Golf by helicopter, which landed alongside the St Andrews Links Trust clubhouse facility near to the Jubilee Course for the surprise visit, telling spectators: "Hopefully, my caddy will keep me out of the bunkers!"
In June 2013, he tackled the Old Course again while visiting Scotland with the Clinton Foundation.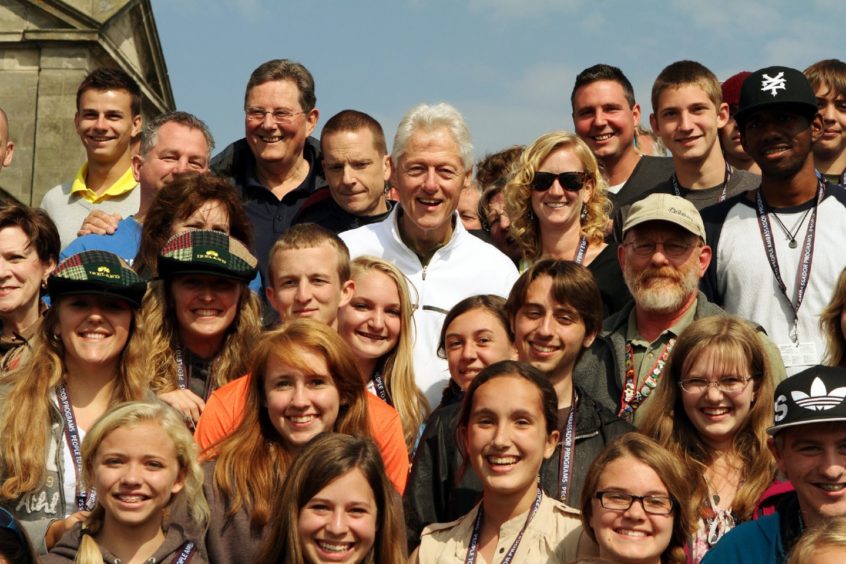 His surprise visit left onlookers and visiting golfers startled as he arrived on the first tee unannounced, telling The Courier on completion of his round: "It's always a fantastic and memorable experience to visit the Home of Golf."
Of course, it's not just presidents – or golf – who've brought White House glamour to Courier Country.
In September 2013, Bill Clinton's wife Hillary – a former US secretary of state who lost out to Trump in the 2016 presidential race – received an honorary degree from St Andrews University.
Dan Quayle, who served as the 44th vice president of the US under George Bush from 1989 to 1993, played numerous times in The Alfred Dunhill Links Championship  at St Andrews, Carnoustie and Kingsbarns.
In 2012 he told The Courier: "It's a very special place, golf in Scotland. I always try to be positive, with a smile on my face."
The 43rd president George W Bush was, like his father, another golf fan.
He reportedly stopped playing golf in 2003 after the bombing of the UN headquarters in Baghdad, stating: "I don't want some mom whose son may have recently died to see the commander-in-chief playing golf".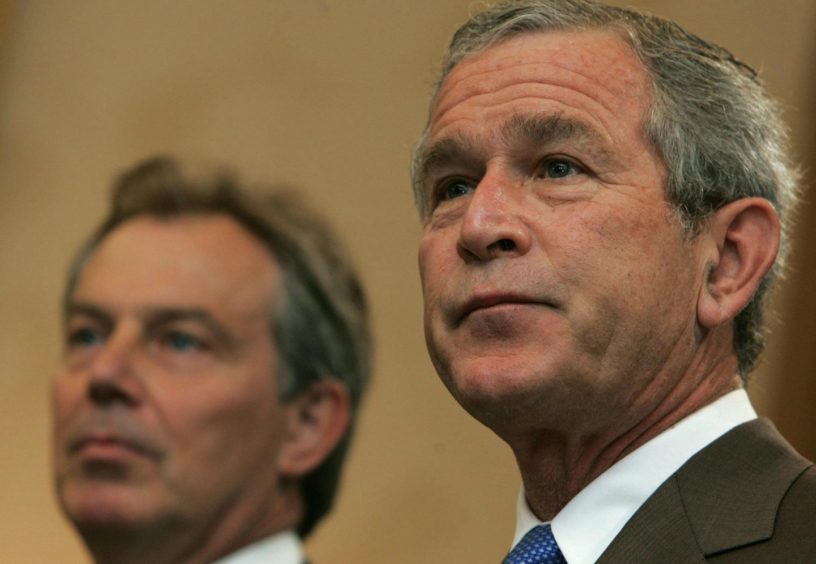 Even if he'd been tempted to play golf while attending the G8 summit at Gleneagles in 2005, the odds were stacked against him as his visit coincided with the 7/7 terrorist bombing atrocity in London, in which more than 50 people died.
He also injured his hand after famously colliding with a police officer during a bike ride in the Gleneagles Hotel grounds.
The biggest former presidential star to grace the Old Course in recent years, however, was undoubtedly Barack Obama who took on the Old Course during his first visit to Scotland in May 2017.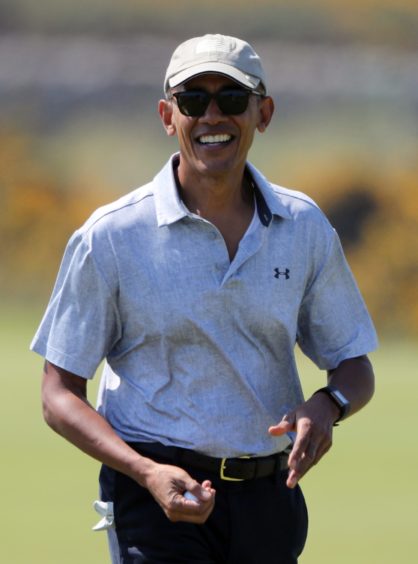 He arrived in Edinburgh by private jet ahead of a charity event where he addressed philanthropy and business leaders.
The golfing enthusiast then headed to St Andrews, where he played on the Old Course.
He was joined by Sir Tom Hunter, whose charitable foundation had invited Mr Obama to speak in Edinburgh.
Despite heavy security, he wandered over to the St Andrews crowds who had been following him on the course and shook hands with spectators before returning to his game.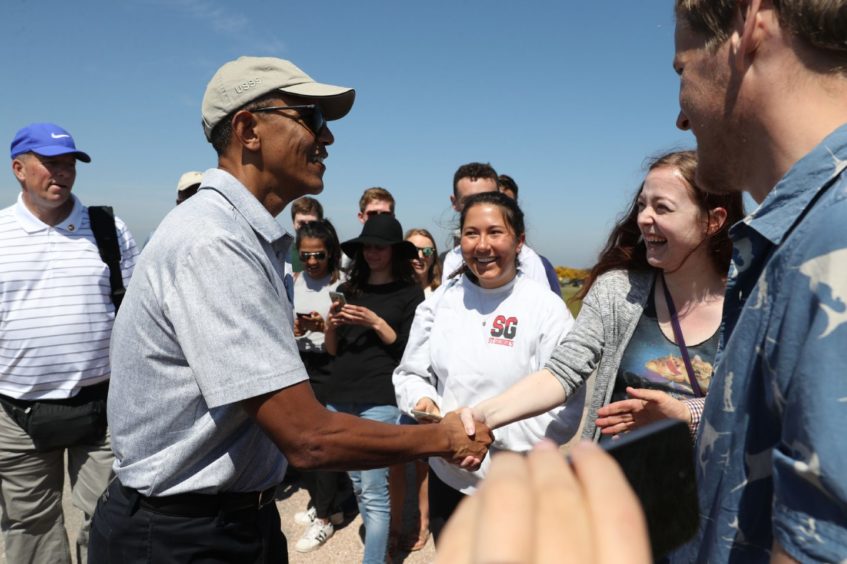 He also visited a snack van and bought a drink before Sir Tom took his photograph with the vendor.
Promising to return to experience "real" Scottish weather after playing golf in 26C (78.8F) heat, and making no reference to the "naive and crassly insensitive" occasion in 2011 when student members of the St Andrews University Conservative Association reportedly burned an effigy of him, he joked: "I promise you I will be back because, unless it is raining and blustery, I will not feel I have got the full Scottish experience!"