VIDEO: Get stuck into some horrible Halloween experiments at Dundee Science Centre
By
Gayle Ritchie
As Halloween approaches, Gayle, aka Witchy Ritchie, heads to Dundee Science Centre to take part in a series of spooky science workshops. Sign up, if you dare!
Hubble, bubble, toil and trouble – horrific Halloween workshops are happening right now at Dundee Science Centre!
From spooky science labs hosted by plague doctors to creepy craft workshops, there's something to terrorise the most hardened of horror fans.
I transmogrified into "Witchy Ritchie" for a preview of the creepy events – which take place today, tomorrow, and next weekend.
Sporting a poker-straight black wig with grim grey streaks, I looked rather like one of the devil's hellbrides…
Children gathered round excitedly as a Halloween-themed stage was set and all sorts of coloured liquids began to bubble and steam.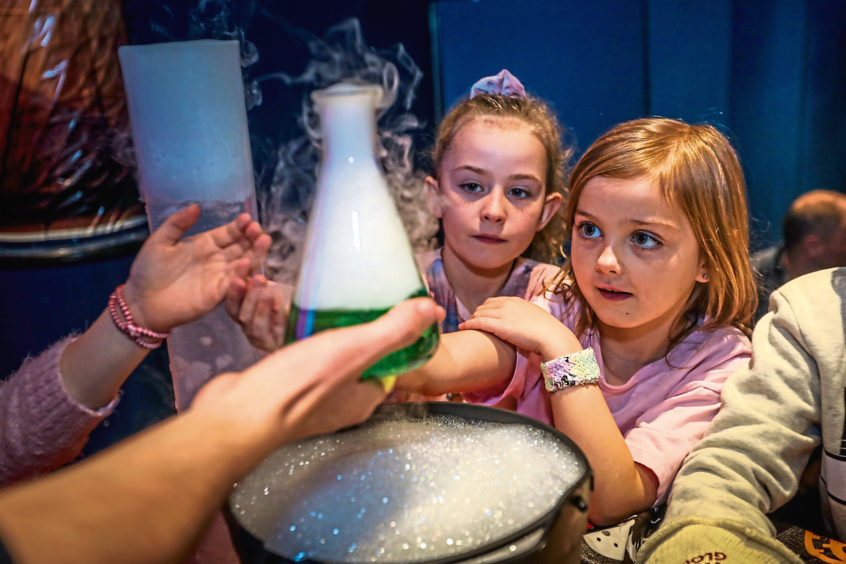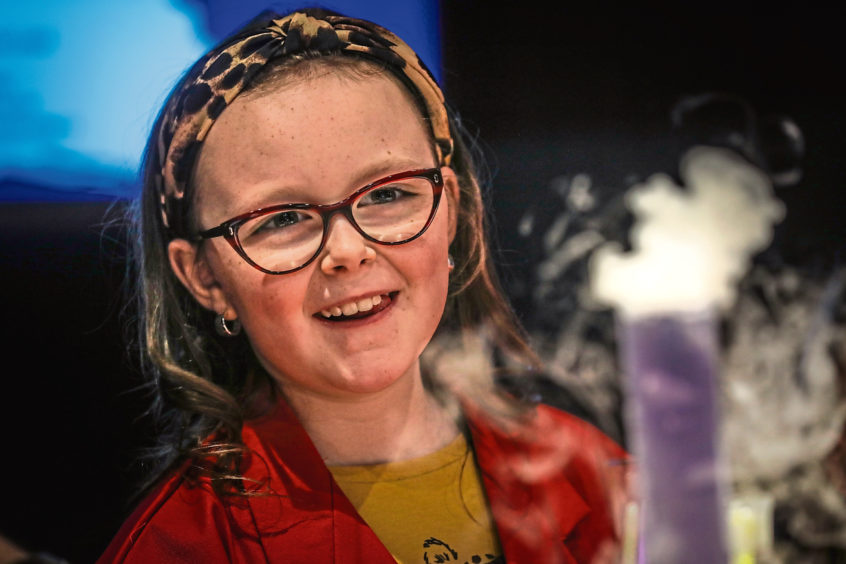 Science learning manager Simon Reynolds showed us how to create green and purple "potions" using glow sticks and water which inspired a lot of oohs and aahs, especially when they threatened to overflow.
Nine-year-old Sophie Lynch giggled as she managed to produce impressive "smoke rings" by adding dry ice to washing up liquid in test tubes. Just wow!
Then science communicator Michael Maitland, aka the plague doctor, told a group of excited children (and me) why he was donning such a scary mask.
"Doctors wore these during the plague to protect them from being infected by disease, which they believed was airborne," he explained.
"They didn't have microscopes so they didn't know about germs. The 'beak' of the mask was stuffed with sweet smelling things like lavender and other herbs. Ultimately, they were useless but they looked pretty cool!"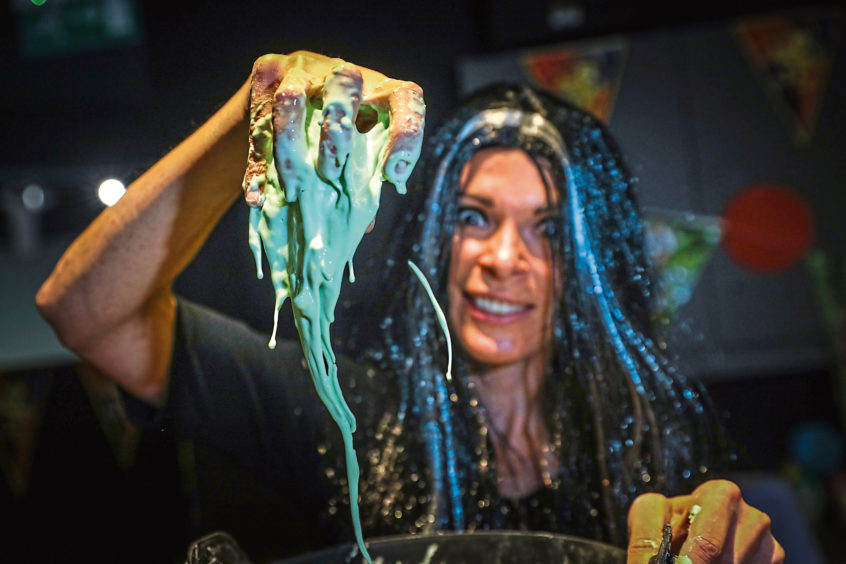 Things got rather messy when we performed a science experiment with a gooey green substance called "Oobleck".
"It's a special type of slime," said Michael, digging into a big black cauldron to find some.
"It acts like a liquid when it's poured but like a solid which you can pick up and shape when force is acting on it. Grab it and watch it ooze out of your hands!"
Apparently Oobleck gets its name from the Dr. Seuss book, Bartholomew and the Oobleck, where a green substance, Oobleck, fell from the sky and wreaked havoc.
Oobleck is made from a combination of cornstarch, flour and a few drops of food colouring, so while it's messy, it washes off really easily – thank goodness.
Not keen on green slime? Fret not because you will get the chance to choose an alternative colour, although most of the children in my preview session reckoned ghastly, ghostly green was just perfect.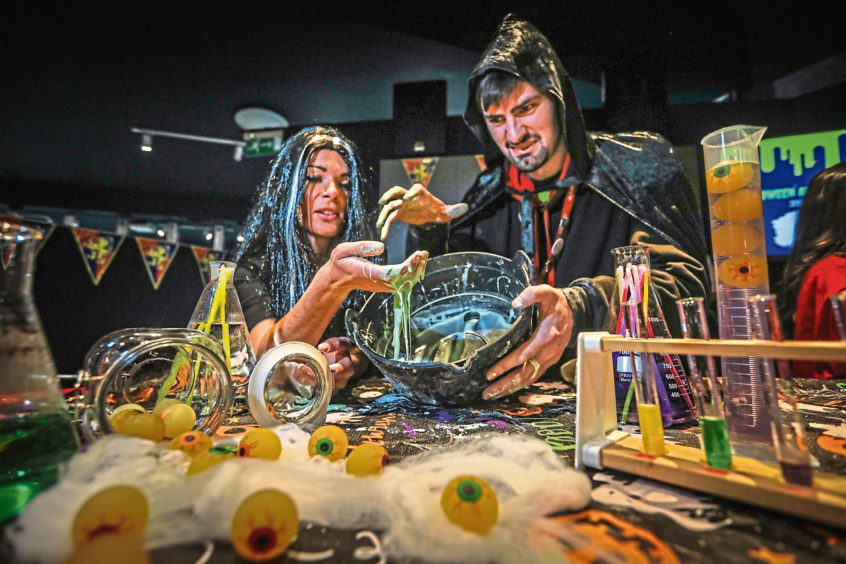 Those who attend sessions will also make Halloween masks (which they can take away) and plunge their hands into a series of "mystery boxes" placed around the room.
"Are you brave enough to delve deep into the cauldron full of wriggly worms and other disgusting mysteries?" cackled Michael.
There will also be a photo booth with props available for parents who fancy taking spooky pictures with their kids.
Children are encouraged to dress up in Halloween costumes for the workshops – the scarier the better!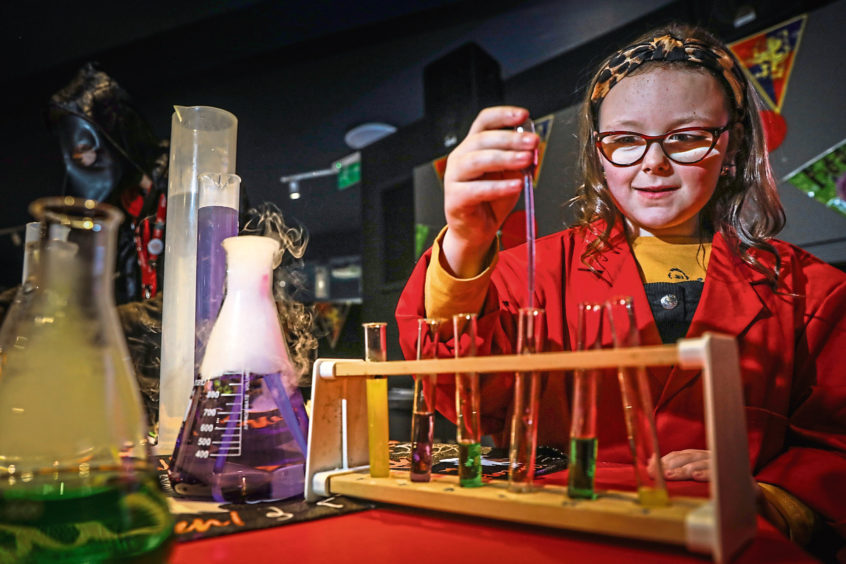 The sessions last an hour and kids are assigned to one of three groups when they arrive. Each group will spend around 10 minutes at one of three stations doing different activities and "make and take" sessions, before rotating round to make slime, which again, they get to take home.
"It's great Halloween fun for kids of all ages," said marketing assistant Emily Lou.
"It would be wonderful if children dressed up in fancy dress and really got into the spooky swing of things.
"Given that Halloween itself is on October 31, and there's a lot of other unmentionable stuff happening on that date, we need to make the Dundee Science Centre sessions as fun and freaky as possible!"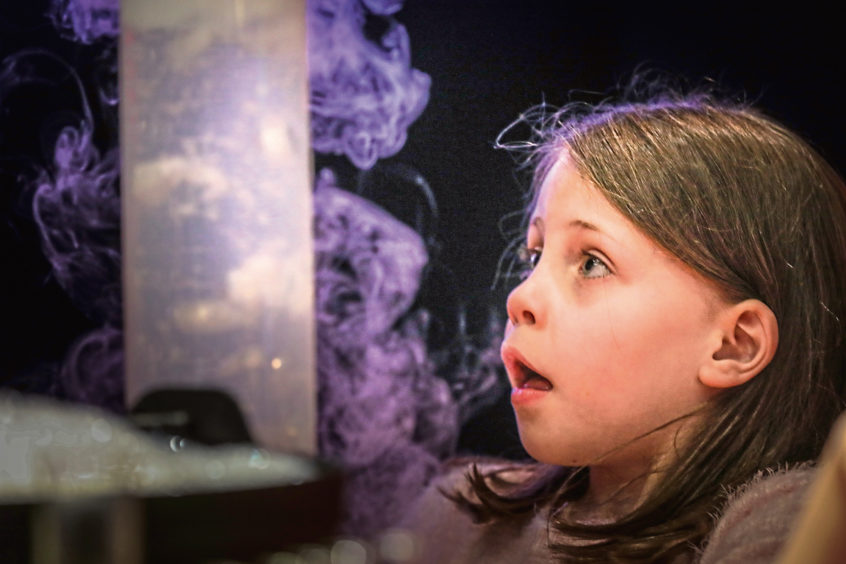 info
Halloween Spooky Science workshops take place today, tomorrow, November 2 and 3. There are six sessions each day, at 10am, 11am, 1pm, 2pm, 3.30pm and 4.30pm.
Tickets are £10 per child. Adults go free of charge.
The coffee shop will be open throughout and will be offering some spooky treats. Each session takes up to 30 children.
For more details, see dundeesciencecentre.org.uk